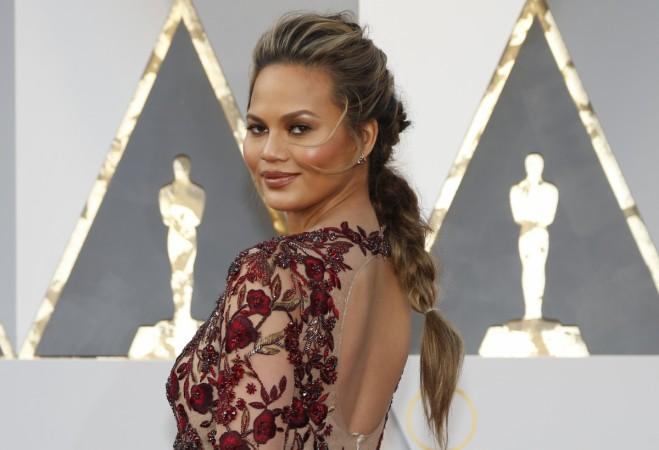 Chrissy Teigen was unfortunate enough to suffer a wardrobe malfunction on Sunday night at the American Music Awards when her thigh-high split dress revealed more than she bargained for. Teigen's dress flaunted her post-baby body, but her decision to ditch her underwear resulted in her crotch being on full display when the front of her dress flashed open.
Teigen was dressed in a long black gown that had slits riding up to her torso. The slits were kept in place by two safety pins. She completed her book with black and gold strappy heels, chunky bangles and rings.
The mother of one was accompanied by her musician husband John Legend at the event at Microsoft Theater in Los Angeles. Teigen and seven-month-old Luna are featured in a clip for the video of Legend's most recent song, Love Me Now.
Teigen was recently in the news for offering to be a surrogate for Kim Kardashian West.
"I would be her surrogate in a second," the model and cookbook author, 30, told Access Hollywood. "I really enjoyed the pregnancy process — I loved it. Yes. In a heartbeat," she added.
A recent episode of Keeping up with the Kardashians revealed that a third pregnancy would be dangerous for Kim, who is mother to son Saint, 11 months, and daughter North, 3.
Teigen herself had an enjoyable pregnancy, but she had difficulty conceiving. "I did IVF — science is miraculous these days, anything is possible," she said, adding that she hopes everything works out for Kim.
"I hope whatever she does is gonna work out for the best, and it's gonna be beautiful either way," Teigen added.