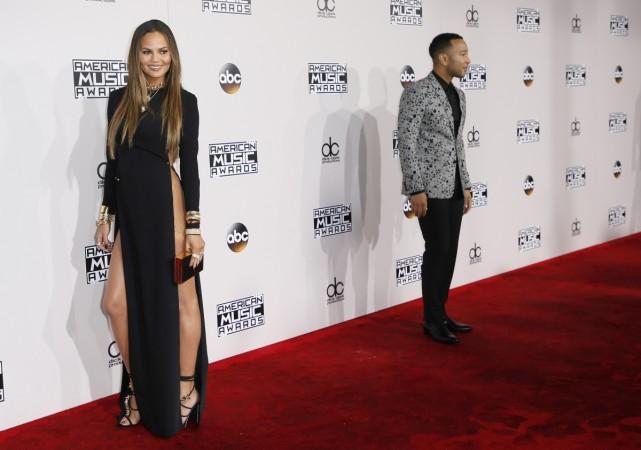 Chrissy Teigen was in the spotlight for flashing her "hooha" during the American Music Awards 2016, but neither did she nor her husband John Legend were embarrassed by the wardrobe malfunction.
Teigen suffered a wardrobe malfunction on Sunday when she wore a black Yousef Akbar's thigh-high split dress that left little to the imagination on the AMAs red carpet. However, her husband Legend is not embarrassed and believes that she can do no wrong.
"John thought she looked absolutely stunning and sexy, and knew there was a slight chance that the wind might blow in the wrong direction. He knows Chrissy [Teigen] isn't shy one bit, and if she's ok, he's ok," an insider told Hollywood Life. "She can do no wrong in his eyes. He loves her sense of humor and how she can always turn an awkward situation into something funny."
"Chrissy was not embarrassed one bit. She wasn't going to let the possibility of showing off a little too much skin stop her from wearing her fabulous dress," the source said.
Earlier, Teigen took to Instagram and apologise to everyone in a hilarious post for flashing her "hooha." "#AMAs! love you so so so much @jenatkinhair @1maryphillips @monicarosestyle @kimmiekyees (apologies to anyone harmed mentally or physically by my hooha) dress is #yousefakbar and shoes are @dsquared2 and laser hair removal is @sevlaseraesthetics," she posted.
Teigen attended the music award show, which was held at Microsoft Theater in Los Angeles, with musician husband Legend. On the award night, she introduced Legend's new song Love Me Now and said, "This next performer is a brilliant musician and a wonderful father, who makes a pretty damn good breakfast sandwich... and he has been known to write love songs about me. What can I say? I'm very inspiring.
"But his songs are bigger than either of us and on the heels of what's been a really interesting f---ed up, f---ing election for all of us, I think we could all use a little love tonight."