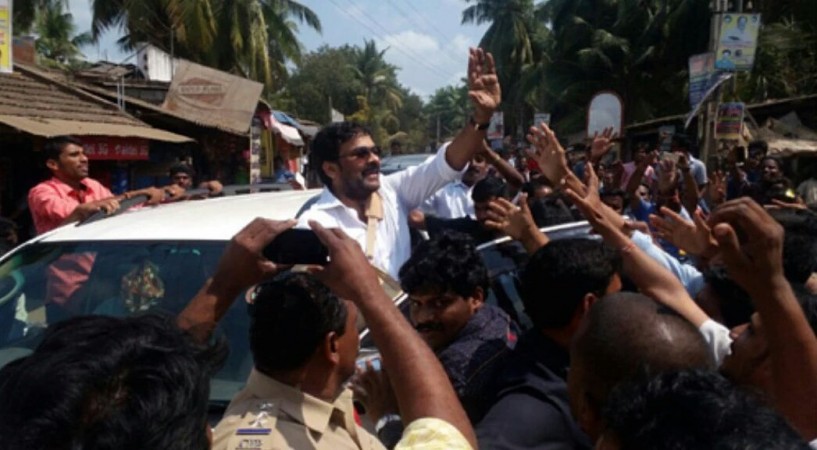 Megastar Chiranjeevi, who has recently adopted a village named Perpupalem near his hometown Mogalthur, kick-started few development works on Monday morning.
Chiranjeevi has been advised to take rest after his shoulder surgery, but the actor-turned-politician visited Perpupalem, where he laid the foundation stone for two-community halls on Monday. Later, he addressed the massive gathering of people, who were all delighted and thrilled to receive him. In his address, the Megastar promised to build junior colleges in the village. [Slide down to see photos of Chiru in Perpupalem]
In November 2014, the Congress party leader reportedly adopted Perpupalem in Mogalthur Mandal, West Godavari district, following a directive by Prime Minister Narendra Modi, under Sansad Adarsh Gram Yojana. He had announced Rs five crore of MPLAD (MP Local Area Development Scheme) funds for the development programmes in the village.
He had promised to take personal interest in improving the lives of the people by focusing on education and sanitation. His goals are to make drinking water available and better sewage facilities, transportation and water channels for irrigating purposes. He is intended to solve the lighting problems and help the villagers with the installation of solar panels.
It is reported that the tenders for developmental programmes have already been finalised and the contractors are expected to start the works in the village very soon. Chiranjeevi is known for his philanthropic works and his work for the betterment of the village is going to be another best example for it.
However, the doctors are yet to remove the bandage on Chiranjeevi's shoulder applied after surgery, but he has gone on take part in the political events. Meanwhile, he is also busy with the preparations of his younger daughter Sreeja's wedding. He seems to have put the works of his 150th movie on hold for some time.
Grand reception by fans & Mogaltoor ppl to #Megastar #Chiranjeevi Garu today pic.twitter.com/bB5Zl5aeNN

â€" G Sriniwasa Kumar (@SKNonline) February 22, 2016
#Megastar #Chiranjeevi Garu at Perupalem meeting now pic.twitter.com/KBgFlRVuZF â€" G Sriniwasa Kumar (@SKNonline) February 22, 2016