Samsung Electronics has finally ended Intel's quarter century reign as the world's biggest chipmaker by sales and outstripped smartphone rival Apple in quarterly profits, thanks to booming demand for one of its simplest products: the humble memory chip.
Samsung reported record high quarterly profit and sales on Thursday. The variegated Korean electronics giant said its semiconductor business recorded 8 trillion ($7.2 billion) in operating income on revenue of 17.6 trillion won ($15.8 billion) during the April-June period.
The South Korean electronics giant reported operating profit of 8.03 trillion Korean won ($7.21 billion) in its semiconductor division in the three months to June, accounting for more than 57 percent of its entire earnings. Revenues came in at 17.58 trillion Korean won or $15.78 billion.
The Economic Times quoted industry analysts as saying in a report that Samsung likely nudged aside Intel in the April-June quarter as the leading maker of semiconductors, the computer chips that are as much a staple of the 21st century wired world as crude oil was for the 20th century.
Samsung first overtook Intel in the first quarter of 2017 when it reported operating profit in its semiconductor unit of 6.31 trillion Korean won or $5.66 billion, more than Intel's $3.9 billion figure. However, revenues were still slightly behind Intel. But the second quarter is shaping up to be the first time Samsung's operating profit and revenues for its chip division, will surpass those of Intel's whole business, according to a CNBC report.
Scroll down for video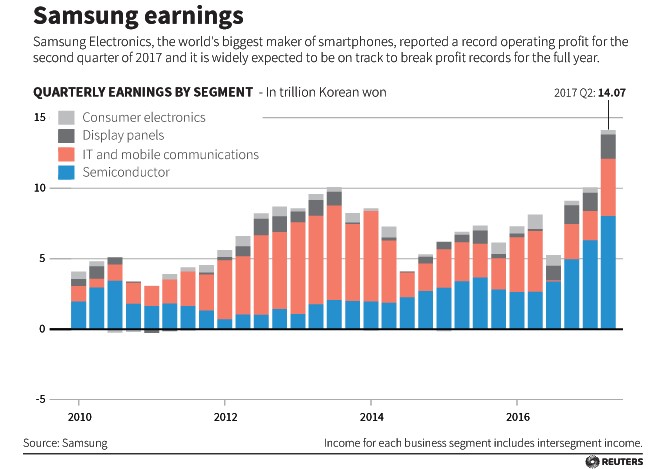 Makings of a fab story
The meteoric rise of the IBM PC had carried Intel to the top of the semiconductor market in 1992, when it overtook then leader NEC. That era has ended on Thursday after Intel and Samsung reported their latest results.
Intel, which reports its quarterly earnings later Thursday, is expected to report $14.4 billion in quarterly revenue.
On an annual basis, Samsung's semiconductor division is widely expected to overtake Intel's sales this year, analysts at brokerages and market research firms say. The South Korean group's anticipated semiconductor revenues of up to $15bn are expected to exceed its US rival's sales forecast of $14.4bn for the second quarter.
Mobile devices and data are the keys to understanding Samsung's ascent as the new industry leader, even as its de facto chief is jailed, battling corruption charges, and the company recovers from a fiasco over Galaxy Note 7 smartphones that had to be axed last year because they were prone to catch fire.
Manufacturers are packing more and more memory storage capacity into ever smaller mobile gadgets, as increased use of mobile applications, connected devices and cloud computing services drive up demand and consequently prices for memory chips, an area dominated by Samsung.
The fact that the NAND and DRAM chips Samsung produces can be used in devices such as laptops and smartphones through to datacenters, has driven their uptake in the world markets. There is rising demand, but not enough supply, which is pushing prices higher. At the same time, the number of datacenters is growing.
Pushing the memory market
Just as Saudi Arabia dominates in oil output, Samsung leads in manufacturing the high-tech commodity of memory chips, which enable the world to store the data that fuels the digital economy.
"Data is the new crude oil," said Marcello Ahn, a Seoul, South Korea-based fund manager at Quad Investment Management.
The South Korean firm is still the world's largest smartphone player, and its recently-released flagship Galaxy S8 has performed well. But in recent times, it has been investing heavily in the chip business.
"Samsung is doing phenomenally well in memory, which is a critical part of a huge diversity of products, and demand is far outstripping supply," Geoff Blaber, a Silicon Valley-based analyst at CCS Insight, had told the Financial Times, London, recently.
Economic Times said that looking ahead, Samsung and SK Hynix, which control more than three quarters of the global DRAM sales, are raising their spending on semiconductor capacity and development in anticipation of robust future demand.
SK Hynix raised its capital spending to 9.6 trillion won ($8.6 billion) this year, up more than 50 percent from last year. Samsung has said it plans to spend $18 billion in the next four years to expand memory chip production capacity at its South Korean plants.
Analysts at IT research firm Gartner have predicted worldwide semiconductor revenues to exceed $400 billion this year for the first time, thanks largely to a 52 per cent increase in the memory market, where Samsung has a dominant share. "This gives Samsung its best shot at capturing the number one position from Intel for the first time" over the year as a whole, Gartner chips analyst Andrew Norwood told Financial Times.