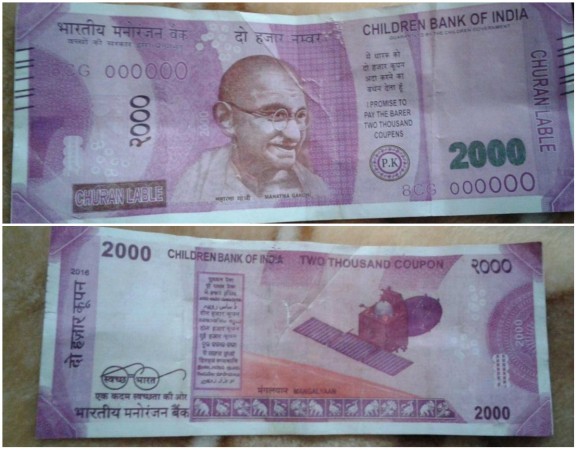 Less than three weeks after a State Bank of India (SBI) ATM in Delhi dispensed fake notes — purportedly issued by the Children Bank of India — of Rs 2,000 denomination, another ATM in Delhi has issued similar notes, prompting a search for the people who were responsible for the various steps in the process of loading the ATM with cash.
Also read: Beware of 'Children Bank of India' currencies; Actress cautions after she gets Rs 100 fake note from auto driver
This time, the fake note came from the ATM of a private bank, and was spewed out on Wednesday, said the police. They received a complaint about it on Thursday. "The complainant, Chandan reported the matter through a PCR call. The fake Rs 2,000 note bore prints of Children Bank of India and Manoranjan Bank on it," DCP(south east) Romil Baaniya has been quoted by news agencies as saying.
The cops have registered a case under Sections 489B (using forged or counterfeit currency) and 489E (making or using documents resembling currency) of the IPC at the police station in Amar Colony, where the erring ATM is located. The case has also been transferred to the crime branch for investigation.
It may be noted that in the previous case — where a person had received four fake Rs 2,000 notes — the person tasked with overseeing the process of filling the cash in the Sangam Vihar SBI ATM had been arrested on suspicion that he had switched out four genuine notes for the four fake notes.
The notes themselves are believed to be coming from some children's board game, like Monopoly. However, their dimensions and print quality are such that not everyone seems to be able to identify them for the fakes they are at the first glance. Only the absence of the security features — like the watermark of Mahatma Gandhi and the raised markings throughout the note — and some mandatory features, like the name of the bank, help the people realise that these notes are fake.
These notes have also raised a question on the demonetisation move by Prime Minister Narendra Modi, who had said the old Rs 500 and Rs 1,000 notes were demonetised so that, among other things, the menace of fake notes would cease to exist.