Chhattisgarh is a clear battle state with exit polls so far not really favouring the ruling BJP, which has held the central Indian state under its thumb for the last 15 years. Congress is looking to wrest power from the ruling party.
Exit polls favour Congress, but by a small margin, so the two parties are expected to battle it out quite fiercely.
According to an exit poll by India Today, Congress is predicted to take 46 seats—the minimum majority in Chhattisgarh. This number was averaged out of five different polls. As for incumbent BJP, 41 seats seem to be where they stand if predictions are to be believed.
The other players in the state include the alliance of Ajit Jogi's Janata Congress and Mayawati's Bahujan Samaj Party are each in line to win six seats, according to reports.
This year, Chhattisgarh recorded 76.35 per cent voter turnout in the elections. There are 90 seats in the state's assembly. Vote collection took place in two phases—November 12 and 20.
Live Updates
Congress wins Chhattisgarh
Congress has made a majority, with BJP too far behind to put up a fight, even if they join hands with other parties. Looks like a decisive victory for the green party, uprooting the 15-year reign of BJP.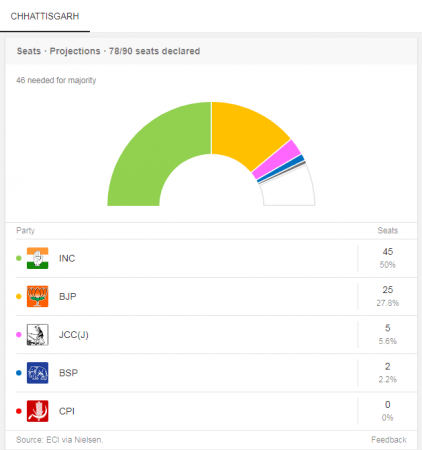 Congress likely to win the majority in Chhattisgarh-- ECI results show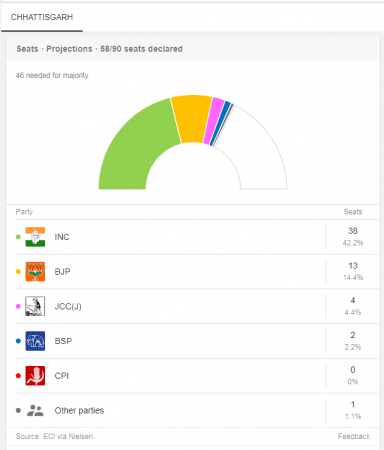 Congress gains comfortable lead over incumbents
Will Congress gain the state of Chhattisgarh? Judging by the trends, it seems more than likely that they will. The state's constituencies seemed to have turned sides as several areas that were strong orange centres have voted green this time.
Congress: 35
BJP: 21
BSP: 2
Others: 4
Congress charges forward with a seven-seat lead
ECI is yet to announce the completion of the first round counting here, but Congress and BJP are seemingly evenly matched in the state. Congress has charged forward, with a 7 seat lead as counting crosses the halfway mark. If Congress is able to maintain their lead, it could turn out to be a victory for the now opposition party.
Congress: 28
BJP: 21
BSP: 4
Others: 1
Neck to neck, no clear leaders emerge, will be up to BSP to offer a coalition?
Chhattisgarh is proving to be a real battleground state with no party taking a strong lead. While Congress is at 9 and BJP has taken 9 BSP clearly trails behind, managing to get only 4 seats, but at the rate in which the results are coming in, the BSP might be the ones who play their cards in the end to form a government offering a coalition with either the BJP or Congress.
Congress: 9
BJP: 9
BSP: 4
Others: 1
Congress takes a sizeable lead
With the vote counting coming in fast, opposition party Congress takes a comfortable lead with 8 seats while incumbents BJP have 6 seats in hand. BSP has three seats so far.
Congress bags first seat, BJP gets second, BSP gets the third seat
With 90 seats in the Chhattisgarh assembly, getting to the halfway mark is going to be the most important landmark that all parties are likely to be looking for. The party or coalition that gets 46 seats will form the government here. The counting has started, Congress has taken the first seat with BJP getting one. BSP has also managed to win one seat.
Both Congress and BJP have claimed victory on the eve of counting
BJP ticket and current CM of the state Raman Singh is contesting out of Rajnandgaon against Karuna Shukla of Congress who happens to be the niece of the former prime minister and one of BJP's greatest leaders--Atal Bihari Vajpayee.
The Times of India reported that on the eve of counting of votes, last evening, both BJP and Congress claimed victory in the elections. Ajit Jogi's outfit JCC has also apparently expressed confidence in forming the next government.