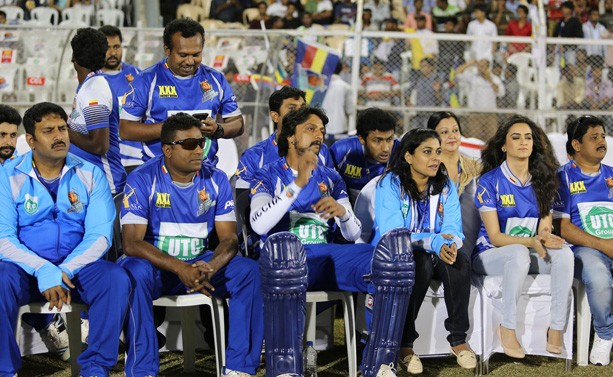 Karnataka Bulldozers have beaten Bengal Tigers at the Celebrity Cricket League 5 (CCL 5) held at the M Chinnaswamy Stadium in Bangalore between 7.00 pm and 11.00 on 18 January.
A large number of fans had gathered at the Chinnaswamy Stadium in Bangalore. Kannada stars' team Karnataka Bulldozers won the toss and chose to bat first. The team scored 100 runs for the loss of 3 wickets in 8 overs. The team collected 255 runs in 20 overs for the loss of six wickets.
Rajeev displayed fantastic performance in batting. Having hit 15 sixes and 2 fours, he scored 111 from 33 balls. With his superb batting, he set a new record in the fifth edition of CCL 5. Rahul, Druv Sharma and J Karthik also batted well and scored 25 runs (18 balls), 39 runs (31 balls) and 26 runs (13 balls) respectively.
Chasing the target set by Karnataka Bulldozers, Bengal Tigers tried their best and scored 141 for the loss of eight wickets. Debraj and Yusuf collected 43 runs (36 balls) and 25 runs (18 balls) respectively. But the team had very tough time in reaching the target as Karnataka Bulldozers showed a powerful performance in both bowling as well as fielding.
Here is the ball by ball update of the CCL5 match between Karnataka Bulldozers and Bengal Tigers:
Karnataka Bulldozers innings
Runs
Balls
4s
6s
Pradeep
c Amitabh b Indrasish
32
16
6
1
Darsan
c Mohan b Debraj
1
8
-
-
Rahul
c Jisshu b Yusuf
25
18
4
-
D Sharma
b Debraj
39
31
6
-
Rajeev
not out
111
33
2
15
K Sudeep
lbw b Uday
5
3
1
-
J Karthik
c Indrasish b Sandy
26
13
2
2
Mahesh
not out
0
0
-
-
K Abhimanyu
did to bat
T Sudhir
did to bat
T Chandra
did to bat
Extras
(4 b, 1 lb, 2 nb, 9 w)
16
Total
(6 wickets, 20 overs)
255
Fall of wickets: 1-37 (Pradeep, 3.4 ov), 2-37 (Darsan, 4.2 ov), 3-91 (Rahul, 9.5 ov), 4-129 (Sharma, 13.3 ov), 5-144 (Sudeep, 14.2 ov), 6-216 (Karthik, 18.3 ov)
| | | | | | | |
| --- | --- | --- | --- | --- | --- | --- |
| Bengal Tigers bowling | Overs | Mdns | Runs | Wkts | Wides | No-Balls |
| Raja | 3 | 0 | 47 | 0 | 3 | - |
| Indrasish | 4 | 0 | 33 | 1 | 2 | - |
| Debraj | 3 | 0 | 35 | 2 | - | 1 |
| Sandy | 4 | 0 | 45 | 1 | - | - |
| Yusuf | 4 | 0 | 58 | 1 | - | 1 |
| Uday | 2 | 0 | 32 | 1 | 4 | - |
Bengal Tigers innings
Runs
Balls
4s
6s
Joy
c sub (Sunil Rao) b Sharma
9
12
1
-
Indrasish
b Sharma
10
22
-
-
Jisshu
c Mahesh b Sudhir
12
15
-
1
Raja
run out (Mahesh->Sudeep)
1
2
-
-
Debraj
b Pradeep
43
36
5
1
Yusuf
c Abhimanyu b Rahul
25
18
2
1
Dev
lbw b Rahul
0
2
-
-
Sandy
c sub (Sunil Rao) b Sudhir
1
3
-
-
Uday
not out
12
10
1
-
Suman
not out
1
2
-
-
Amitabh
did to bat
Extras
(5 b, 10 lb, 2 nb, 10 w)
27
Total
(9 wicket, 20 overs)
141
Fall of wickets: 1-29 (Joy, 3.4 ov), 2-48 (Indrasish, 7.2 ov), 3-50 (Raja, 7.5 ov), 4-52 (Jisshu, 8.3 ov), 5-96 (Yusuf, 14.2 ov), 6-96 (Dev, 14.4 ov), 7-100 (Sandy, 15.3 ov)
| | | | | | | |
| --- | --- | --- | --- | --- | --- | --- |
| Karnataka Bulldozers bowling | Overs | Mdns | Runs | Wkts | Wides | No-Balls |
| Pradeep | 4 | 0 | 14 | 1 | 4 | 1 |
| Sharma | 4 | 0 | 18 | 2 | 1 | 1 |
| Chandra | 2 | 0 | 20 | 0 | - | - |
| T Sudhir | 4 | 0 | 24 | 2 | 3 | - |
| Mahesh | 2 | 0 | 19 | 0 | - | - |
| Rahul | 4 | 0 | 31 | 2 | 1 | - |