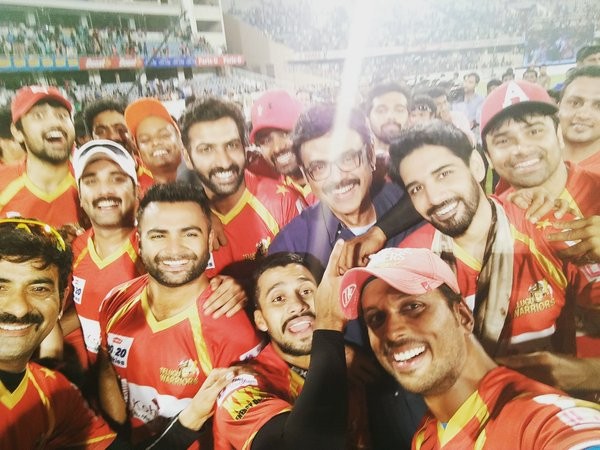 Sachiin Joshi was given not-out by the third umpire at a crucial stage during the Celebrity Cricket League 6 (CCL 6) final match between Telugu Warriors and Karnataka Bulldozers. This decision has come in for severe criticism from fans of the Sandalwood team as the video apparently showed he was run out.
Commentators, too, had felt Sachiin Joshi was out, but it was a close call where the benefit of doubt was given to the batsman. The cricketer had passed the half-century mark and the Telugu team required close to 100 runs from 11 overs at that juncture.
In the end, Sachiin Joshi went on to score a stunning 114 runs from 49 balls. His century ensured that Telugu Warriors crossed the victory line with ease.
Fans of Karnataka Bulldozers feel the Sandalwood team had a good chance to win if Sachiin Joshi had been given out. Hence, they are sharing their unhappiness over the decision on Twitter.
Meanwhile, Sudeep has reacted to the development by requesting people through his Twitter account to end the issue. He posted: "Reqst all those,posting th pic of the run out,to stop n nt to humiliate th umpire or the ccl.1st norm of ny game,Decisions hv to be respectd. (sic)"
He added, "TeluguWarriors did play a fantastic game n were the deserving team..We hv just lost a match,, but wth these kinda tweets we loose dignity.. I understand that pain behind the tweets. but my friends, we need to move on..We earn respect only by respecting. Cheers n luv always..kichcha. (sic)"
Telugu Warriors won the match by nine wickets on Sunday, Feb. 14. They comfortably chased down a huge target of 208 with 14 balls to spare. With this victory, the Tollywood team joined Chennai Rhinos and Karnataka Bulldozer in lifting the trophy twice.
batsman in form Sachin Joshi was on the wrong end outside the crease with 96 more to get from 62 balls #ParleCCL6 pic.twitter.com/S9eLVr5juz

— actorramofficial (@actorRamSays) February 15, 2016
Wondering the course #ParleCCL6 finals would have taken if this critical run-out decision was OUT #everyWicketCounts pic.twitter.com/ypcN6VfiH6 — actorramofficial (@actorRamSays) February 15, 2016