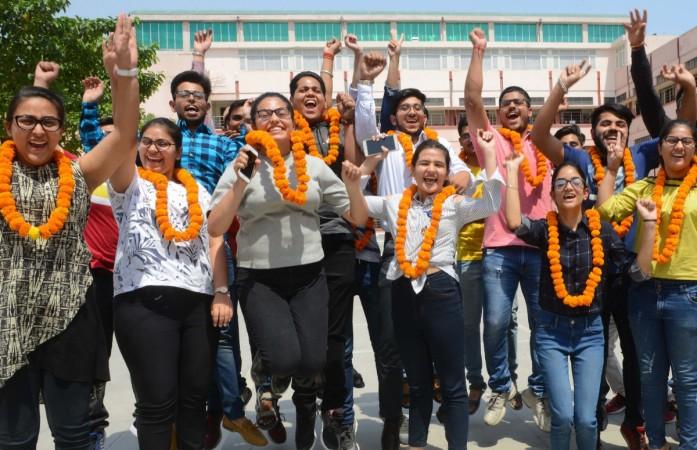 The Central Board of Secondary Education (CBSE) has just announced results of the Class 10 board examinations. Here are a few highlights of the results as they come in.
CBSE Standard 10 this year saw 1,638,420 candidates registered and exams were conducted at 4,453 centres across India as well as in 78 centres abroad. The results were published online from the office of the secretary of school education and literacy part of the Union ministry of Human Resource Development.
There are 4 toppers this year and they have scored 499 out of a maximum possible 500, losing only one mark.
Prakhar Mittal from DPS, Gurgaon
Mittal lost out on just one mark in his French paper and managed to clear his examinations with an aggregate of 99.8 percent. Speaking to India Today, Mittal said, "I did not expect to top the board examination. I thought to score 90 percent only." He went on to speak about how he did not take the exam as being burdensome. "I was consistent throughout the board examination. I did not take board examination burden on me," he added.
"After completing my Class 12 board examination, I will take up engineering in my graduation," Mittal added.
Rimzhim Agarwal from RK Public school, Bijnor
Aggarwal managed to score her country-topping marks by not taking the help of any coaching centre, reports ABP. She in fact expected this result going into the exam, she reportedly said. At this time, it is not clear which subject she lost out her one mark in. She also spoke of giving her best to the papers she wrote, so had good expectations about the result. Aggarwal also credited her father for helping her with her class 10 exams.
Nandini Garg from Scottish International school, Shamli
Garg is another candidate who managed to score a 499, but it is not clear at this time in which subject she lost that one mark. "During my preparations, my school was highly supportive, the teachers have helped me to bring out my best potential," said the national level topper. She went on to thank her school, parents and teachers for their support.
As for those preparing for next year's Class 10, Garg has some sage advice."Students who will appear for CBSE Class 10 Results the next year, should prepare for these exams by keeping your mind stress free," she said.
Sreelakshmi G from Bhavan Vidyalayas, Cochin
Sreelakshmi from Cochin joins neighbouring Thiruvananthapuram region which has topped the country with its number of students clearing the exam. Thiruvananthapuram recorded a pass percentage of 99.6 percent, almost as high as Sreelakshmi's individual 99.8 percent score.
Toppers among the differently abled candidates are
Anushka Panda from Suncity Gurgaon school scored 489 marks out of 500
Sanya Gandhi from Uttam School in Ghaziabad also made 489 marks
Sonya Deep Pradhan, represented JNV Dhanpur, Orissa, with 484 marks