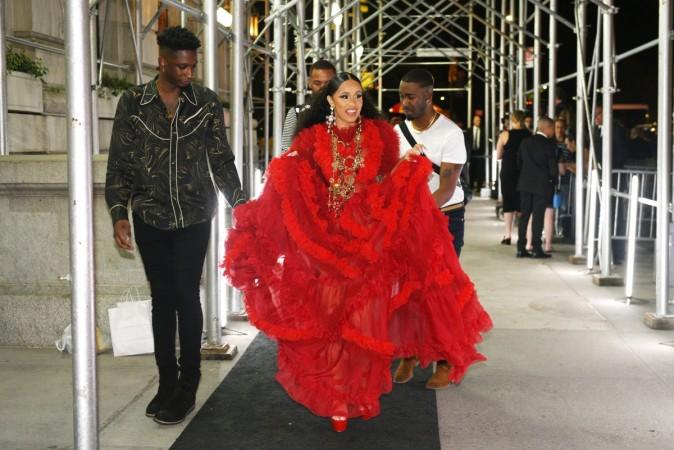 Cardi B, who turned a year older on October 11, has expressed a birthday wish that only husband Offset could make come true.
The 26-year-old rapper took to Instagram to post a video thanking fans 'for the love' they sent her way on her special day. Cardi B also took everyone by surprise by declaring in her video how badly she wants to have sex with her husband Offset, "[I want] my husband to f*** me in 30 different positions. I want [him] to flex me like a New York pretzel!"
Well, we hope the birthday girl gets her special wish. Offset had recently gifted a grey Lamborghini to Cardi B.
Cardi shared an update on Instagram about the whole surprise incident, "So, I was going to go to LA, and mother f***ers called me talking about, 'it's an emergency' and I gotta go to Atlanta because Offset fainted and sh-t. And, I'm just like 'oh my God, what is going on?'" Cardi said on an Instagram video, before flipping the camera around to show her new ride. "I'm so happy," she gushed before joking, "Now I'm really gonna have to learn how to drive!" She also said she was "so happy and thankful" before telling Offset she loves him.
"I'm happy and mad at the same time i been crying and praying for like 2 hours .I love you babe Thanks for the gift .Please don't scare me again you know i suffer from anxiety," she added further.
On Tuesday night, Cardi walked away with the award for Favourite Rap/Hip-Hop Artist at the 2018 American Music Awards, in addition to Favourite Rap/Hip-Hop song and Favourite R&B song. In her acceptance speech, the artist thanked her new-born baby girl, Kulture Kiari Cephus, for encouraging her to "prove people wrong" after they said she couldn't win when she became a mother.
Cardi B, who welcomed her daughter in July, does her best to keep her out of the public eye. Erika La' Pearl, Cardi's make-up artist, told Hollywood Life, "The reason she didn't want to show her baby is that there are negative people on Instagram and a lot of negative people on social media. She doesn't want anyone talking about her baby because she's very protective."