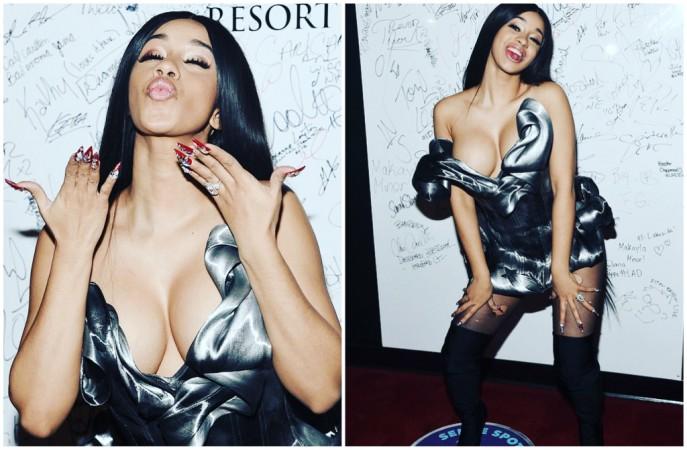 Cardi B had a classic "Oops, I did it again!" moment as she flaunted a raunchy gunmetal grey dress which left little to the imagination.
Almost being compared to a nip-slip related wardrobe malfunction, Cardi's pretty little mini was sashayed on Friday night at the Foxwoods Resort Casino, in Mashantucket, California.
Also read: From Heidi Klum to Bella Hadid and Priyanka Chopra: Embarrassing celebrities' wardrobe malfunctions in 2017
The dress – seemingly designed to be off shoulder – was almost off cleavage too, allowing the rapper's ample assets getting exposed but that isn't where it stopped.
Later when she was on stage, performing, the dress also managed to ride up considerably, to expose her ripped, fishnet stockings covered bottom.
Beautiful with swirls and ruffles everywhere – the outfit was straight out of a dystopian, sci-fi world's prom night. Teamed with the perfect bustier, it also allowed Cardi to show off her enviable, toned mid-riff. Add black pointy over-the-knee boots to that and voila!
The 25-year-old beauty from Bronx decided to wear her hair long and parted in the middle – resembling a signature Kardashian style – all with bejewelled nails to accompany the look too.
Born Belcalis Almanzar, Billboard's number one woman rapper in a considerable amount of time owned the stage with her moves and vocal skills, also blessing her fans with some signature Cardi B twerking that just made the crowd of crazy.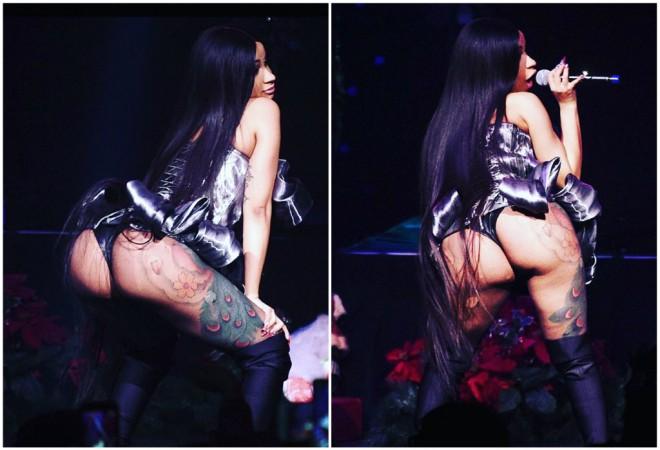 Trust Cardi to always make go the extra mile to make quite the appearance – starting from her very elaborate Cinderella moment at Rihanna's charity gala to her very public engagement proposal by beau, Offset, which had happened on stage.
To say that Cardi has had an eventful and huge year, would be a massive understatement. Already with a Grammy nomination to her credit, for her hit Bodak Yellow, she has also been named one of hip hop's top selling artist.
And to think the journey had started from a strip club, where she was employed before gaining a social media presence on Instagram, back in 2014.
It took Cardi three years to get signed by labels, however, but once she did this year in February, her records took off as major chartbusters. About that, she had shared with Rolling Stone that, "I used to tell myself that I will always be myself. But little by little, I'm feeling like I'm getting trapped and muted."
But known for her untamed mouth and cocky lyrics, Cardi has already won over the hearts of many; what's a little wardrobe malfunction going to do to her glittering fame?