This has been an amazing year for fashion. From Melania Trump to Gal Gadot and Selena Gomez, celebrities have donned some breathtaking outfits that turned heads.
But unfortunately, there have been some celebrities whose dressing choices resulted in unforgettable and embarrassing wardrobe malfunctions. With 2017 coming to an end, here's a look back at some of those moments that made headlines this year.
The sassy Chrissy Teigen suffered an embarrassing wardrobe malfunction at the start of the year when she flashed her assets at the 2017 Super Bowl. Attending the sports event with her singer husband John Legend, she accidentally flashed her nipples and the embarrassing moment was caught on camera. Addressing the moment, Chrissy took to Twitter sharing the video of the wardrobe malfunction with a caption "boom goes the dynamite."
Following the Super Bowl, Oscars 2017 also saw some wardrobe malfunctions. Blanca Blanco's thigh-high slit revealed too much of her legs on the red carpet and made some headlines.

Kim Kardashian was also one of the celebrities who made their way into the list this year. The reality star, stepping out in an all-white outfit fell prey to the embarrassing moment when her nipple peeped out of her torso tight attire.
Gorgeous Bella Hadid too had her few moments this year. From the Cannes to a dinner date, the most recent one Bella made headlines for was at the Victoria's Secrets Fashion show.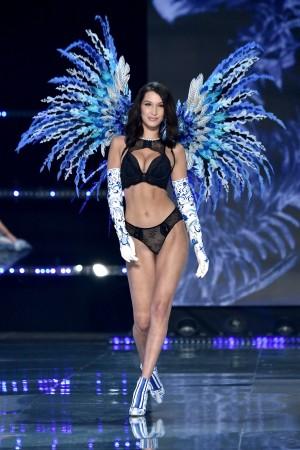 The 21-year-old model had a nip-slip when she pulled up her hands and it was caught on camera. Despite the silver lingerie gave a sneak peek into her assets, the diva smiled and wrapped the show.
Selena Gomez also suffered a huge fashion mishap when she stepped out wearing a while structured blouse to promote Bad Liar earlier this year. The embarrassing moment revealed more than Selena had bargained for. The armhole gave fans an eyeful on her torso, resulting in the picture taking the social media by storm.

Heidi Klum faced a similar situation when she stepped on the red carpet of the Emmys 2017. The hot model, who dressed in red boho style gown, showed more skin than intended. Her outfit, which featured a plunging neckline showed more assets than it covered almost resulting in an embarrassing nip-slip.
Cardi B's faux pas was caught live on camera at the MTV VMAs 2017. While the rapper who was presenting Demi Lovato for her performance, her grandeur outfit fell apart, revealing her assets on live television. The diva held on to her modesty and presented the singer and left the stage with grace.
Talking about stages, recently former Fifth Harmony singer Camila Cabello also accepted that she had a bad fashion moment on stage revealing that her pants tore midway through her performance. Performing at the Jingle Ball, the Havana hitmaker ended up with a bad tear near her derriere. She quickly ran backstage and changed the outfit.
While these were mostly during promotions and red carpets, Priyanka Chopra suffered an embarrassing wardrobe malfunction on sets of an upcoming Hollywood movie. The Quantico star who was filming for 'Isn't it Romantic?' with Pitch Perfect star Adam Devine managed to cover her modesty but the embarrassing moment was filmed and surfaced online.
Wearing a pink dress, Chopra's outfit slipped down, revealing too much cleavage while she was performing a scene for the movie.