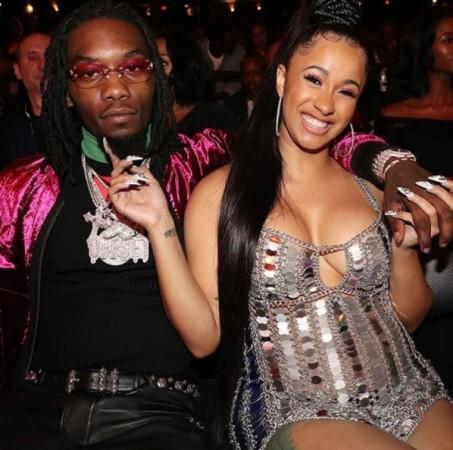 So it looks like the apology worked. Cardi B and Offset were spotted together in Puerto Rico. They were reportedly seen smiling on Jet skis.
The couple was looking happy, as Cardi B and Offset were seen frolicking in the water while sharing the same jet ski. While it's still unconfirmed if they're officially back together again, Cardi and Offset looked like a couple, according to witnesses who spoke to TMZ. Apparently, the two are in Puerto Rico vacationing with friends.
Offset received a lot of backlash for crashing Cardi B's performance and apologizing by putting on a very public display. "All of my wrongs have been made public, i figure It's only right that my apologies are made public too," he tweeted after her show. " A n—a was just trying .....thank god I ain't got no balloons sheeesh."
Cardi B and Offset split earlier this year when cheating allegations arose against Offset. A video of his alleged mistress confessing to their affair and apologizing to Cardi also surfaced which added fuel to the fire. In a social media post, Offset begged for Cardi's forgiveness. "I only got one birthday wish and that's to get my wife back Cardi. We're going through a lot of things right now, a lot of things in the media. I want to apologize to you Cardi. I embarrassed you. I made you go crazy," he said in the video message.
Cardi B had announced earlier that she split from Offset because she had fallen out of love. But judging by the fun she is having with Offset in Puerto Rico, we have to say that some of that love may still be left.