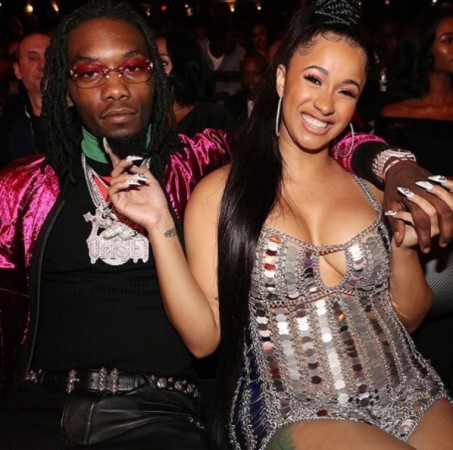 Offset is leaving no stone unturned to win back lady love, Cardi B's forgiveness. He went public with an earnest video plea apologising to her and begging his wife to take him back. According to a report by Hollywood Life, we hear Cardi B is still uncertain about their future as a couple.
"Cardi is definitely wavering on the subject of taking Offset back," the source said. "She really misses him and he's saying all the right things right now. At first, Cardi was so angry she couldn't stand to even hear Offset's name, and she was adamant that she wanted to divorce him and not have anything to do with him ever again. But now, they've started talking again and she's started coming around to the idea of them getting back together."
Trouble in paradise began when cheating rumours started to swirl. "Offset swears he didn't cheat, and Cardi really wants to believe him, but her gut instinct tells her he's lying," the source went on to say. "So right now it's all about whether she can live with that or not."
Well, what exactly does she think of his public apology? "Meanwhile, Cardi plans to make the most out of Offset's apologies, because she figures that if he's really genuinely sorry then he can put his money where his mouth is and shower her with gifts," the insider continued. "He messed up, he needs to pay for it, plain and simple."
Offset captioned his video "F O R G I V E M E" in all caps and "@iamcardib A L L I W A N T F O R M Y B D A Y." "I've only got one birthday wish and that's to get my wife back, Cardi," he begins . "We've been going though a lot of things right now. A lot of things in the media. I want to apologize to you Cardi, I know I embarrassed you."
"I was partaking in activity I shouldn't be taking in and I apologize for breaking your heart, for breaking our promise and God's promise and being a selfish, messed up husband," he continues.
Offset then goes on to plead to Cardi to take him back and how he really wants to spend their first Christmas with daughter Kulture. "I'm trying to be a better person. I'm trying to get this off my shoulders, I want to get this off my back. I apologize to you Cardi, I love you and Kulture and I want to spend Christmas with you. I want to be able to spend the rest of my life with you." Addressing his alleged alleged cheating scandal, he says, "I apologize, I'm sorry for what I've done to you. I didn't f**k that girl I was entertaining. I apologize, I love you and I hope you can forgive me. My birthday wish is just to have you back."