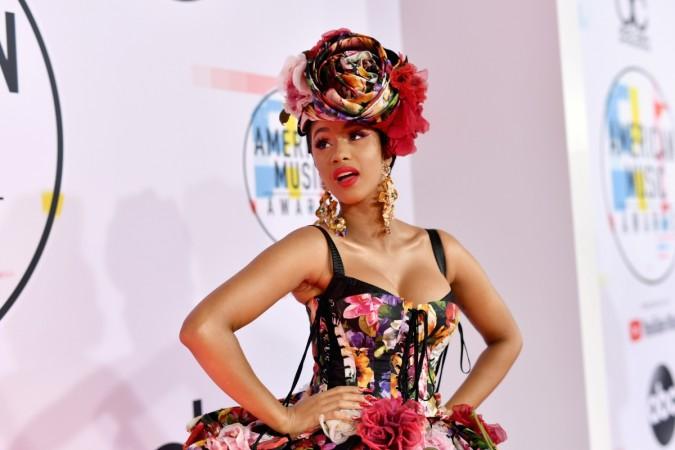 Cardi B sure knows how to flaunt it. The "Bodak Yellow" singer struck a pose on Instagram displaying her rock hard abs for the world to see. But did Cardi show off her post-baby body by posing next to stripper poles?
The singer, who has recently been in the news for her public catfights with fellow singer Nicki Minaj, seems to be showing the world how motherhood is changing her. Or maybe she is trying to throw subtle shade at Nicki? One can only guess.
However, the risqué video shows how much work Cardi B has been doing to get back into shape after her pregnancy. And we have to say, she is looking gorgeous. The post features the rapper using one hand to cover her breasts while she is dressed in nothing but her underwear. The video comes on the heels of Carbi B opening up about motherhood and how she has been losing weight after the birth of her baby daughter Kulture.
It was reported earlier that Cardi B is turning Santa Claus this Christmas, showering her baby with expensive gifts this holiday season. Kulture is one lucky baby to have a birthday so close to Christmas. A double whammy every year. The singer is quite active on social media, posting fan images as well as regular video updates on what she is up to. Post-pregnancy, Cardi is surely a busy bee.
This is not the first time the "Be Careful" singer has bared it all. Cardi's Instagram is filled with images of the singer showing off her beautiful body art, her expensive bling and amazing curves. Though the new mother is excited about spoiling her daughter, she is also scared of sharing Kulture's pictures online. The singer is scared to expose her daughter to the mean world outside. We totally get you Cardi.
But that doesn't mean the singer hasn't been tempted. But we will be patient for when Cardi feels like taking this step with her daughter into the world of the Internet.
Check out the photo here: