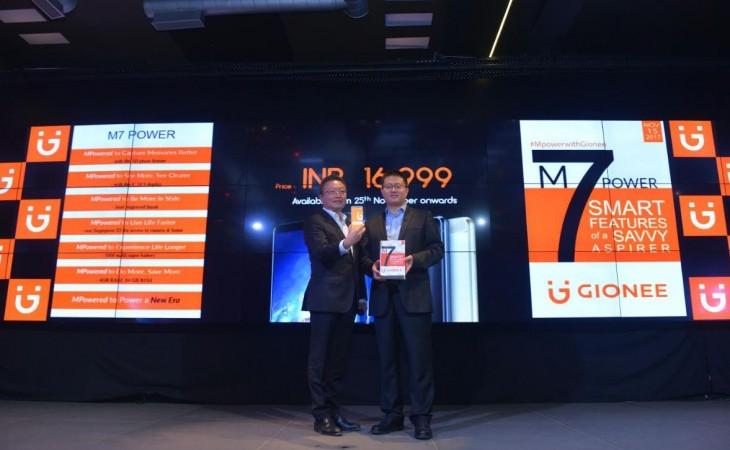 Gionee new phones are expected to take on Xiaomi Redmi Note 5 and Asus Zenfone Max Pro (M1)
The upcoming Gionee phone will be coming with FullView display having 18:9 aspect ratio
Chinese smartphone maker Gionee has been having a tough time in India ever since compatriot Xiaomi took over. The Shenzhen-headquartered OEM was among the first of the big Chinese mobile brands to strike gold in the Indian market and was counted among the top 5 smartphone brands in the country. Now, the times have changed and despite launching a few smartphones last year, Gionee's fortunes do not seem to change.
This year, the brand, which redesigned its logo to look like a smiley, intends to make a comeback of sorts and has a bunch of new smartphones lined up for launch in India today, April 26. Although we do not know a lot about the phones themselves, it looks like one of them at least will be taking on the likes of Xiaomi Redmi Note 5 Pro and the newly launched Asus ZenFone Max Pro (M1) – a phone which has taken the mid-range segment by storm.
The launch comes amidst the company's plans to scale up its India business and challenge the likes of other Chinese smartphone brands in the country like Xiaomi, Oppo, and Vivo.

The company is teasing two smartphones in the invite, suggesting that it will launch at least 2 phones today. The teaser carries the tagline 'Transform The View' which hints that the both of them will feature 18:9 full-screen displays.
As per industry sources, they will be launched in the lower mid-range price segment and priced between Rs 9,000 and Rs 15,000. This means the upcoming Gionee phones will compete with the likes of the Redmi Note 5 Pro and the Asus ZenFone Max Pro M1 which seem to be the flavor of the month.
Gionee is also launching the new smartphones in India – once its biggest market outside of China - as its operations in its home country have reportedly worsened over the past few quarters.
But despite the reports that Gionee's financial woes in China are affecting its operations in India, Gionee India's global sales director David Chang reassured that the brand is here to stay.
"We are equally excited about our presence in the Indian market and would like to assure all Gionee lovers that the brand is here to stay," Change told IANS.
The smartphones that will be launched today will be Gionee's first set of smartphones to be launched this year and the last chance to revive its dying brand in India.
Last year was a bad year for Gionee with very few smartphones getting launched. The last smartphone that was launched was Gionee S10 Lite in December 2017, which was priced around Rs 15,999, and before that Gionee had launched the battery-centric Gionee M7 Power at Rs 16,999. Both smartphones, despite packing decent specifications, did not stand their ground in front of cheaper alternatives from Xiaomi and the likes.
If Gionee is to revive its brand and generate sales in the country, it will have to offer better specs or at least similar specs at cheaper prices than the Redmi Notre 5 Pro and come up with a pricing strategy like Asus which launched the ZenFone Max Pro M1 at an unbelievably low price. Whether Gionee will do that or not, will be known in just a few hours from now. So, watch out for this space for more updates.