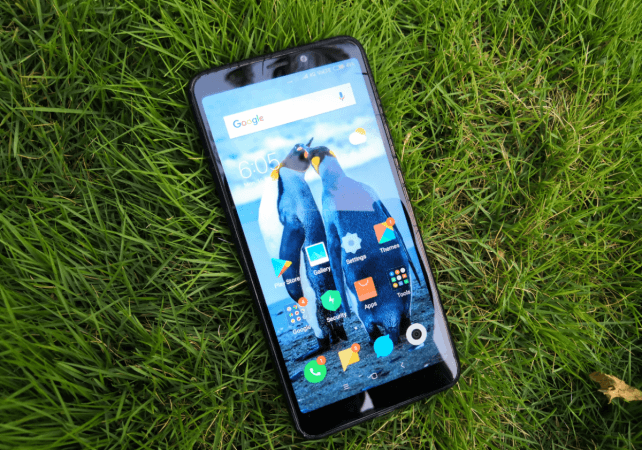 Xiaomi Redmi 5 is one of the most feature-rich smartphones in the budget category
Despite the low price, there is no compromise in quality in terms of build quality and internal hardware in the Redmi 5
The Xiaomi Redmi 5 series made its debut just a few weeks ago in India and is offered on Mi.com and Amazon with prices starting at Rs 7,999.
Since its debut in 2013, Xiaomi has been ruling the budget and mid-range market, as it is the only brand to consistently offer cost-effective devices. As a result, Xiaomi is now the numero uno smartphone brand in India.
This time too, the new offering from Xiaomi, Redmi 5, comes with several upgrades both in terms of design and internal hardware over the Redmi 4 [review] series. Guess what, its base model costs less than the predecessor. But, is the Redmi 5 well-equipped to challenge rival brands and help continue the company's lead in the market? Let's check it out.
Design and display:
Though Redmi 5's design is different compared to its predecessor Redmi 4, it is identical to Redmi Note 5.
It features a slim body around the edges and comes with a smooth metallic exterior cover on the back with two polycarbonate caps on both top and the bottom to house antennas. But, have to appreciate the Xiaomi engineers' ingenious paint job, which makes them blend seamlessly on the rear-side. It is difficult to know that they are made of different materials.
Also when held in hand, I can feel the premium quality of the phone and this makes me wonder how Xiaomi can offer this high-grade phone for as low as Rs 7,999.
On the front, it sports 5.7 HD+ (1440x720p) screen having a 2.5D curved glass cover on the edges and also boasts 18:9 aspect ratio. It offers a really good viewing experience.
With well designed metallic shell and vibrant display with 18:9 aspect ratio, the Redmi 5 is unarguably the best looking phone in the entry-level segment.
Performance:
The Redmi 5 comes with Qualcomm Snapdragon 450 octa-core CPU backed by Adreno 506 graphics engine and Android Nougat-based MIUI 9 series OS.
It is available in three variants—2GB RAM+16GB storage, 3GB RAM+32GB storage and 4GB RAM+ 64GB storage.
In terms of practical usage, Redmi 5 did not disappoint at all. It loads application faster, switching between apps is a smooth affair and while playing games, it hardly showed any lags. But, it has to be noted that we deliberately played smaller and less power intensive games such as Angry Birds, as this phone is a budget phone. Even if you play graphics-rich Asphalt 8, it will run, but there will lag-ness.
Rest assured, the Redmi 5 will do every day-to-day function without any hiccups.
Camera:
Xiaomi Redmi 5's primary camera takes really good snaps in bright light conditions. The color of the scene in the picture is near to natural, but it begins to lose sheen and also the autofocus tends to lose speed with a change in light in the late evening and the night.
Having said that, the picture quality is really good compared to other phones, which fall in the same price range. Also, I was impressed with the sharpness of the image [check out the images below].
The front 5MP snapper too takes decent pictures and its smart beauty app makes the photos particularly the selfies clearer and if offers auto and pro mode for the user to edit tone of the skin and erase any blemish or acne with ease, and make it appropriate enough for sharing it on social media platforms.
For those unaware, Xiaomi Redmi 5 houses a 12MP camera with 1.25µm pixel size, f/2.2 aperture, PDAF (Phase Detection Auto Focus) and a LED flash. And on the front, it features a 5MP snapper with LED flash support.
Battery:
Xiaomi Redmi 5, despite being much bigger than the Redmi 4, comes with 3,300mAh, 800mAh less than the latter. But, thanks to the good combination of Qualcomm Snapdragon 450 CPU and MIUI 9 software, the new device is optimized enough to deliver you a full day life under mixed usage. If used more conservatively, it can go another half day longer.
Final thoughts:
Once again, Xiaomi has got a winner Redmi 5. It ticks all the features including high-grade body composition, visually appealing design, terrific camera, day-long battery life and most importantly the price, it's ridiculously low, a key aspect for a consumer particularly in a price-sensitive market like India.
With a starting price of just Rs 7,999, Xiaomi Redmi 5 offers more than any of the rival brands in the budget segment and is a great choice for consumers looking for a secondary phone and also for those who are planning to buy their first-ever touchscreen smartphone.
Pros:
Gorgeous design
Good display
Day-long battery life
Really good camera for its price
Cons:
There is nothing serious to complain about the Redmi phone, but just for nitpicking, I think, the company could have incorporated 4,000mAh battery like the Redmi 4 series