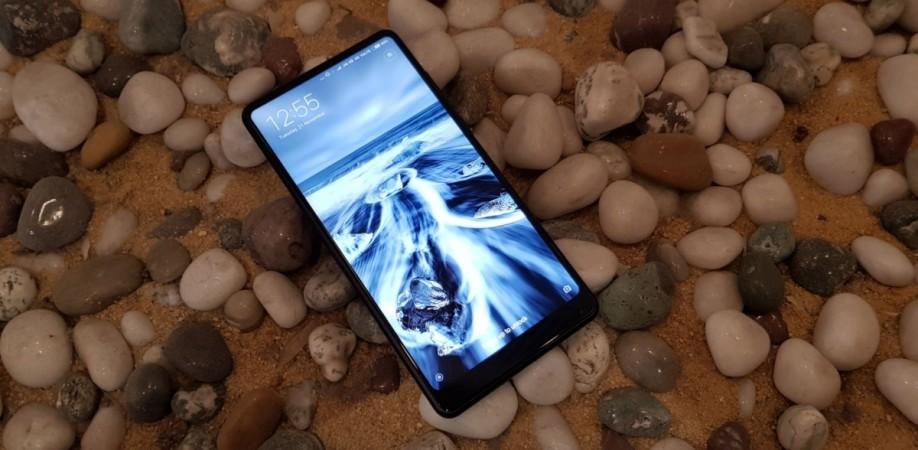 Xiaomi has come long way since the debut in early 2010. It was mocked as an Apple copycat in the early course of its journey, but it all changed when the company pulled the covers off the concept phone Mi Mix in 2016.
Xiaomi Mi Mix was truly the one of the biggest gamechangers of 2016 in the smartphone industry. Its design language was unique and visually appealing, and with powerful hardware inside, the device literally took the company to a league of its own.
Established players who once ridiculed Xiaomi were are at the receiving end. They got panned for making boring new phones with just incremental upgrades and no creative innovation in design, and astonishingly, took a liking for Xiaomi's wonder phone Mi Mix and adopted its innovations in their products in 2017.
Almost all brands -- the Samsung Galaxy S8 (& Note8) series, the Google Pixel 2 series, even Apple iPhone X and the recently-launched OnePlus 5T come with FullView or Infinity display. Notwithstanding whatever moniker rival companies try to give "their" display design, they all unmistakably take inspiration from the Mi Mix series.
This year, Xiaomi launched the new Mi Mix 2 with a more refined design language, and has used copious amount of premium construction material along with powerful internal hardware.
Yet, it comes with a cost-effective price of Rs 36,999. We used the phone as a primary device for three full weeks and here's our take on the Mi Mix 2.
Design and display:
We, without any doubt in whatsoever parameters, believe that there is no other phone better looking than Xiaomi Mi Mix 2 in the market. Period. Samsung's Galaxy S8 (and Note8) series comes a close second purely in terms of design.
Why? Xiaomi Mi Mix 2's exterior structure is uniquely original.
The company has made full use of the front panel with one objective in sight -- to provide an immersive viewing experience -- and has aced it with flying colours.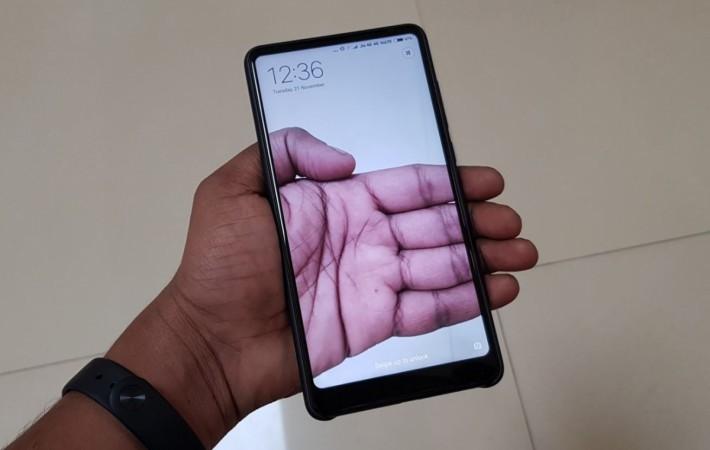 Some might think that the front camera is oddly positioned at the bottom left corner, but the MIUI software and tilting feature makes the selfie photo session ever so pleasant.
Unlike the Galaxy S8, which has a fingerprint sensor right beside the camera module, which often gets smeared with sweaty finger smudges on the glass top and needs to be constantly cleaned with a cloth.
Another prime example of Xiaomi engineers' ingenuity is the openly-placed speaker on top of the display, whichis nevertheless very hard to discover.
It's impossible to spot from far: You will find a small speck in the centre just above the screen only on closer observation.
Also, the Mi Mix 2 boasts of sophisticated ultrasonic technology compared to rival brands, which uses infrared laser-based physical proximity sensors to track phone movement to activate the screen when woken or taken up to make a phone call.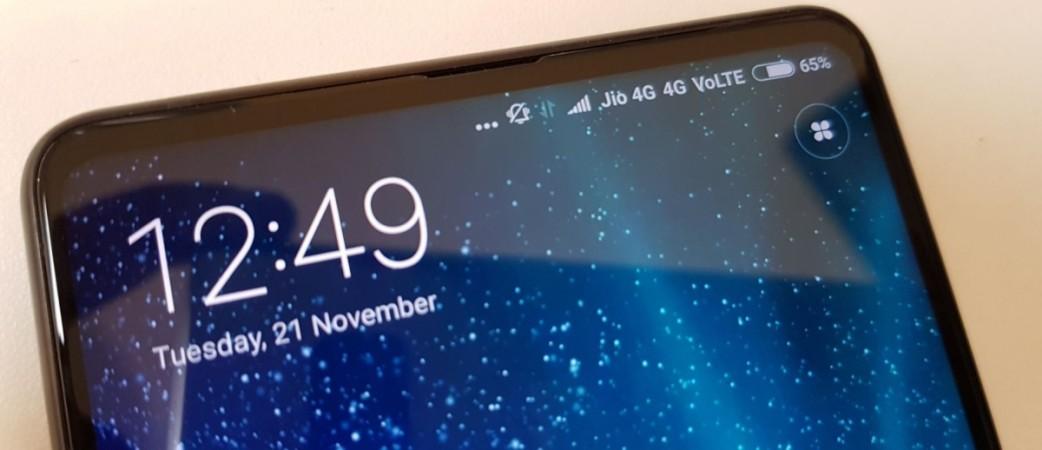 The rounded metallic frame on the corners not only adds value to the design, but also offers stability to the structure. On the back, the Mi Mix 2 comes with a premium ceramic shell, which is sturdier than the glass we see in other rival brands.
Further, the primary camera module on the back is enclosed in an 18-carat gold-plated ring.
It can withstand scratches from small keys in the pocket, but we advise our readers not push their luck by not buying the shell-cover, as the ceramic will crack when dropped even from a small height.
Performance:
Xiaomi Mi Mix 2 comes with top-of-the-line processor chips. It houses the Snapdragon 835 octa-core processor -- Qualcomm's latest and most powerful CPU to date -- and is supported by an Adreno 540 graphics engine, sumptuous 6GB RAM and 128GB storage.
With such hardware, the Mi Mix 2 worked flawlessly with no signs of stagger during normal day-to-day operation such opening apps, switching between multiple applications and shooting videos.
We also tried the Asphalt 8 game and it was a visual delight in high-resolution full screen. The phone did not show any lag, but it tends to get hotter when used for extended session.
However, this temperature was much lower than the metal-clad flagship phones we used, and we probably think the ceramic shell might be the reason for it.
The Mi Mix 2 also scored a respectable 177,278 points on AnTuTu, and managed to get 1,917 and 6,101 points on single-core and multi-core tests, respectively, on Geekbench.
As far as user experience is concerned, MIUI 8 and the newly released MIUI 9 offer a simple interface along with a boatload of value-added features.
We were particularly impressed the with Dual-apps and Second Space feature, which allow users to have two accounts on WhatsApp (and other social media platforms) and also create work and personal accounts.
The one-handed mode is another praiseworthy feature, which was a huge help to me, as I have a small palm.
Quick ball -- a movable gesture-based shortcut feature -- allows users to set five custom actions or app shortcuts anywhere in the screen. When if it is not in use, it automatically slips to the edge so that there is no viewing obstruction in the screen.
Camera:
Xiaomi Mi Mix 2 houses a feature-rich 12MP shooter with dual-tone LED flash, f/2.0 aperture, 4-axis OIS (Optical Image Stabilisation), PDAF (Phase Detection Auto Focus) and 4K video recording capability.
On the front, it houses a decent 5MP snapper with wide-angle Field Of View (FOV) to take big group wefies.
The Mi Mix 2 took stunning images during testing, particularly in bright sunny conditions and with dim light in the evening. It was able to capture near-natural colours of the scene.
But, the camera's auto-focus loses speed and also the noise shows up in the image during the night. However, the photo quality was on a par with similar products in its price range.
The only downside is Xiaomi Mi Mix 2's lack of a second camera on the back: Users won't be able to experience the Bokeh blur effect on the phone.
Battery:
The Mi Mix 2 houses a 3,400mAh battery and it did not disappoint at all. The Xiaomi device, despite having a huge 5.99-inch full screen HD, consistently gave a full day's battery life under mixed usage.
During the test period (active hours 6 am to 10 pm), I made/answered voice calls, messaged on WhatsApp (with multimedia content: images and short clips), browsed the internet, Facebook and Twitter and watched YouTube videos.
[FYI: Display is the biggest consumer of battery resource in a phone]
Verdict:
Xiaomi Mi Mix 2 ticks all the great features a flagship phone should possess, but its display and design language make it stand apart from rivals. If there is a beauty contest among smartphones, the Mi Mix 2 will win hands down.
Another big advantage I see in the Mi Mix 2 is the price: Rs 35,999. In our opinion, it's a steal.
If anybody is looking for a flagship phone that does not cost a bomb, the Mi Mix 2 is the best choice in the market.
Pros:
Gorgeous original design language
Stunning display
Decent performance
Full day's battery life
Most affordable "true" flagship phone in the market
Cons:
With no dual-camera setup, people will miss the Bokeh effect feature, but it's not a big deal, as the snapper takes superb quality images.
Stay tuned. Follow us @IBTimesIN_Tech on Twitter for the latest news on Xiaomi products.