The former White House press secretary Sean M. Spicer recently unveiled a wax figure of the first lady Melania Trump at the Madame Tussauds in New York. And, Twitter users were quick to compare the first lady's figurine with Caitlyn Jenner.
This is the first time that her statue has been displayed at Madame Tussauds Times Square location and she looks "unbelievably lifelike," according to Spicer. Her wax figure has been kept next to a waxwork of her husband US President Donald Trump in front of a reproduction of the Oval Office that displayed a Madame Tussauds flag. She is joined by the likes of other wax statues of celebs such as Angelina Jolie, Queen Elizabeth II.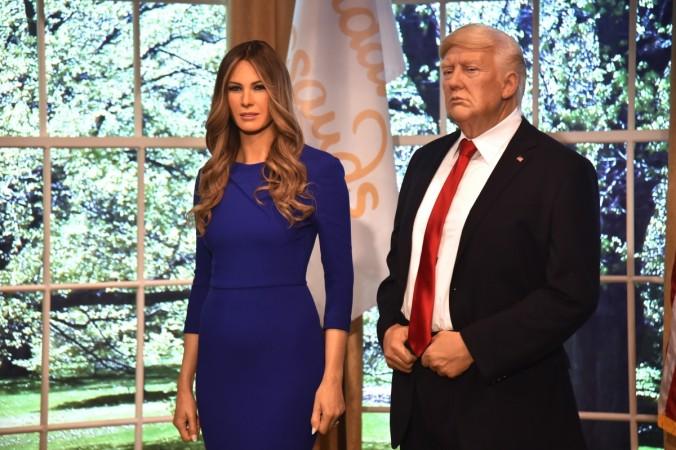 "She's a very caring and gracious woman, and our country is grateful to have her," Spicer said while asked about how Trump was away from the cameras.
He also added, "She's a very gracious and fashionable woman. I don't think the American people have fully appreciated the level of intellect she has and her political savviness."
When asked how the FLOTUS reacted upon the news of her husband's alleged affair with an American pornographic actress Stormy Daniels, Spicer told The Guardian, "I haven't had any conversations on that."
A few even did not spare the latest hand holding controversy, as one user wrote, "Not even the statues are holding hands."
Another Twitter user wrote: "Why is there a statue of Caitlyn Jenner next to Trump?"
Here are some of the Twitter reactions.
and it reminds me of Caitlyn Jenner.

— librarygirlone (@librarygirlone) April 25, 2018
Sub headline: Looks vaguely like Caitlyn Jenner

— Justin W. Waldrop (@JustinWWaldrop) April 25, 2018
Why is there a statue of Caitlyn Jenner next to Trump?

— Scott (@scottluvslucero) April 25, 2018
What is the awkward hand-holding moment all about?
During the recent official state visit of French President Emmanuel Macron and his wife Brigitte, president Trump tried to hold Melania's hand outside the White House.
In another awkward footage, the FLOTUS was seen refusing the affectionate gesture of the president. In a second attempt, Trump again tried to wrap his finger around Melania's hand but she deliberately snubbed his efforts.