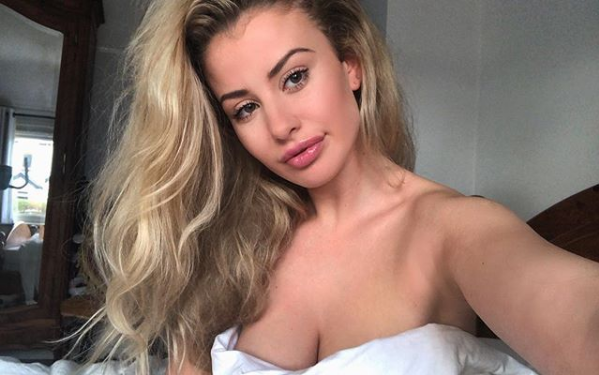 A surreal story of kidnapping has divided the world; some believe it happened and some believe it is too dramatic to be true. Which side are you on?
Also read: Indian transwoman beaten up by mob mistaking her for kidnapper in disguise
British model Chloe Ayling had been kidnapped by two mystery men last July in Milan, say police reports. She was apparently sedated, tied up, stuffed inside a suitcase and transported to a hut in Piedmont. She also suffered physical and psychological abuse at the hands of the kidnappers, who reportedly kept her tied to furniture for a week.
"I think I lost consciousness. When I woke up I was wearing a pink bodysuit and the socks I'm in now. I realized I was in the boot of a car, with my wrists and ankles tied and my mouth taped. I was inside a bag, with only a small hole that allowed me to breathe," Ayling told The Washington Post.
Italian investigators Flying Squad have said that the model was being set up to be auctioned and sold on the "deep dark web," an incognito platform on the Internet where illegal goods are bought and sold.
Ayling has said that the kidnappers abruptly released her after finding out she was the mother of a two-year-old. But several people have raised questions about the authenticity of the account, saying that it might be a publicity stunt.
She also mentioned that her kidnappers had asked for $500,000 ransom amount, to be paid within a month after her release in Bitcoins, an untraceable online currency. People have expressed doubts about the method of payment as well, wondering if it isn't too convenient. Several videos on social media sites have also discussed the authenticity of this incident, even saying that she seems to be loving the media attention that she has been getting after news of her ordeal broke out.
A 30-year-old Polish man from Birmingham, Lucasz Herba, was arrested on July 17 for the kidnapping, along with his brother Michal Konrad Herba. Prosecutor Paolo Storari was quoted by Italian news agency ANSA as saying that Chloe was lured to Italy with a photo shoot offer.
According to The Washington Post, the Italian police said Ayling was put up for sale on the Internet as a sex slave, with a price tag of $300,000. However, the kidnappers, believed to be from a cybercrime gang called "Black Death Group," suddenly decided to free her and drop her off at Milan's British consulate after learning about her toddler son.
Although Ayling has recounted her experience many a time in great detail, several questions have been raised. Many believe that she seemed too happy weeks after her release from captivity and did not show any signs of the torture she said she underwent. The victim's lawyer, however, believes that anyone who questions her is "evil'.
Also read: Sara Tendulkar's stalker, who threatened to kidnap her, called Sachin his father-in-law
Reports have previously said that investigators are not questioning whether the "victim" is speaking the truth. Yet, it has been acknowledged widely that some of the details do not match.
Ayling has appeared on some shows to talk about her ordeal, most prominently The Dr. Phil Show. There, she defended her claims that one of the kidnappers agreed to pay $250,000 to free her after he realized that they had kidnapped the wrong person. She said he also took her shoe shopping and slept in the same bed with her.
Chloe stated that it is because she is a model that people doubt her intentions. According to her, had she not looked so attractive and been a "normal person like a teacher," she would have been treated "a lot more seriously."