Brad Pitt and Jennifer Aniston are in the news again because of their rumoured relationship. A recent report alleged that Angelina Jolie's estranged husband has decided to meet Aniston in London.
Jennifer Aniston's fan was caught by surprise when she announced her decision to terminate her marriage with writer-director Justin Theroux. The news of Aniston and Theroux parting their ways came after Angelina Jolie filed for divorce from Brad Pitt, citing irreconcilable differences.
Many even wondered if Brad and Jen will reconcile their differences. There were several reports in the recent months allegedly suggesting that Brad's family was pushing him to marry Jennifer. A recent report allegedly talked about a supposed meeting between Brad and Jennifer.
According to a report from Grazia, Aniston is reportedly moving on from Theroux. As a part of moving on process, she is back on speaking terms with Brad Pitt and even planned to meet him in London.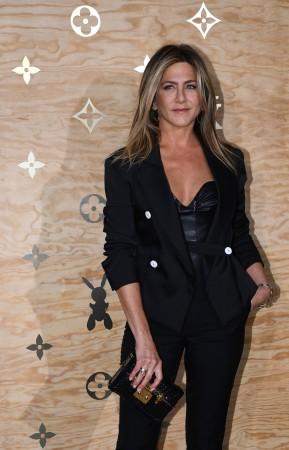 "Brad and Jen have been in touch sporadically over the years, but a lot more consistently since she split from Justin," claimed the supposed insider.
The insider further claimed that Jennifer is in the UK for her upcoming Netflix project, Murder Mystery and Brad is also visiting the English countryside to visit his children. That being said, Brad Pitt was recently spotted showing off as a sixties hunk. He was pictured on the set of Once Upon a Time in Hollywood in Los Angeles. At the same time, as per his agreement with Angelina Jolie, he is supposed to be in California for the next few weeks to be with his six children.
Meanwhile, in the released pictures from the Once Upon a Time in Hollywood movie set, the 54-year-old Pitt looks toned as he steps down from the car. The black tight t-shirt with blue denim gives him the 60s look everyone was hoping to see in Quentin Tarantino's next western film.
In Once Upon a Time in Hollywood, Brad Pitt will star alongside Leonardo DiCaprio as he steps on the shoes of Cliff Booth who served as Rick Dalton's (Caprio) body double. The film will centre on the lives of struggling actors and how their life is affected when Rick's neighbour, Sharon Tate (Margot Robbie), was brutally murdered by the member of Charles Manson's family.
Well-wishers are advised to understand this that Brad Pitt and Jennifer Aniston haven't crossed paths in years and there's nothing going on between the former couple.