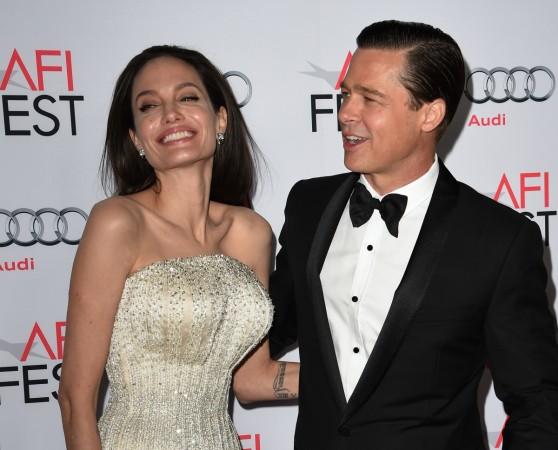 Angelina Jolie reportedly kept a secret "dirty diary" during her marriage to Brad Pitt. It is recently claimed that the 'Maleficent' actress plans to use the diary to win the custody battle.
Pitt was married to 'FRIENDS' TV series star Jennifer Aniston when he started the filming of 'Mr. & Mrs. Smith.' On the sets of the action comedy, he met Angelina Jolie and they soon became more than friends. Soon after Pitt's divorce with Aniston, he started going out with Jolie and together they became one of the most successful Hollywood couples of this generation.
However, back in September 2016, Jolie and Pitt decided to end their marriage. Since then, they both have reportedly been involved in a custody battle of their six children. A source allegedly revealed to Radar Online that Jolie told her close friends that she has maintained a vivid account of her ex-husband Pitt's alcohol addiction and volatile behavior. The actress reportedly plans to use the secret dossier's content during the time of the ruling.
"Angie's going to paint her life with Brad as a living hell," an alleged source added.
Back in June 2018, a judge overlooking Pitt-Jolie's divorce case ruled that the actress must allow her estranged husband to have more visitation with their six children. The court even stated that Jolie could risk losing primary custody of their six children if she does not follow the court's order.
"The way things are shaping up, she'll have no option but to pull out the diary if she wants to win this custody battle," the unverified source further added.
As of now, an official statement by Pitt or Jolie's representatives has not yet released. The well-wishers of Brangelina are advised to undertake the reports of secret "dirty diary" as nothing but rumors until a more substantial confirmation comes from the former couple.
This is not the first time when a groundless gossip has surfaced about the private lives of Brad Pitt and Angelina Jolie. Earlier this week, it was reported that after ending his marriage with Jolie, Pitt has started to flirt with his Once Upon a Time in Hollywood co-star Margot Robbie. The source claimed that the on-screen chemistry between Pitt and The Wolf of the Wall Street actress made many to believe they are getting "too close."
That being said, Gossip Cop debunked the rumor mill. After confirming from the legitimate source, it was reported that there is nothing going on between Pitt and his co-star Robbie.