BJP MLA YA Narayanaswamy and Aam Aadmi Party (AAP) Karnataka convenor Prithvi Reddy disagreed on a lot of topics — ranging from corruption and Karnataka government schemes — but also agreed that the Congress needs to go from Karnataka.
In the process, both of them said in an exclusive interview to IBTimes, India that their respective parties were the best alternative for the state.
Speaking with Danish Manzoor on the talk, they also revealed a few their respective party's plans to come to power in the southern state.
'Congress must go'
Both Narayanaswamy and Reddy agreed that it was time for the Congress to be unseated from Karnataka and that the party under Chief Minister Siddaramaiah was doing everything possible to return to power.
They also concurred that the Congress had used the office of the Lokayukta to come to power in 2013, and then promptly dismantled the anti-corruption office.
They also said that Siddaramaiah had had caste-based census done in the state so he could understand and target caste votes better.
Reddy went on to allege that the Congress was funding its entire operations throughout the country with whatever it was "earning" from Karnataka.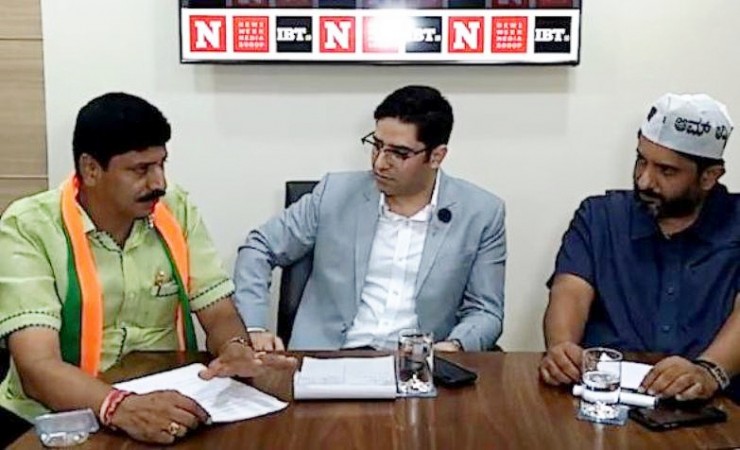 Poll strategies
The AAP state convener also explained that his party was already working at the grassroots level in Karnataka, albeit under the radar, to turn people to their cause.
He promised a corruption-free government, something he said that the saffron party had not been able to give the people of Karnataka.
Narayanaswamy, on his part, announced better governance and better earnings for the state. He pointed out that Karnataka's budget had almost tripled during the time the BJP was in power in the state the last time.
He also said that the BJP was going to people's homes by the lakhs to convince them to vote for the party in the upcoming elections.