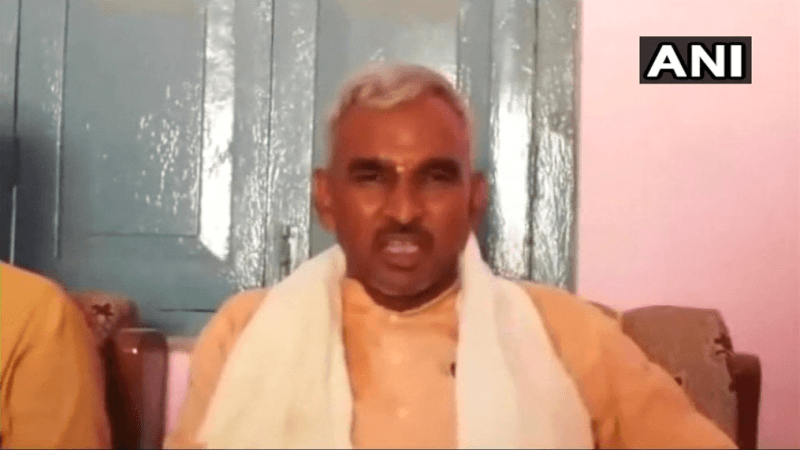 While Prime Minister Narendra Modi may be busy making an impression on the international stage and preparing for the 2019 general elections back home, BJP MLAs are busy embarrassing themselves and the party. In the latest controversy that has put a party MLA in the spotlight, Surendra Singh has said that prostitutes are better than government officials.
Singh made the comment at a public gathering, during which he said: "Prostitutes are better than government officials; at least they take money and do their work and also dance on the stage. But officials, even after taking money, don't do their work. There is no guarantee that the work will be done," reported ANI.
Singh, a lawmaker from Uttar Pradesh's Bairia, observed a "chetavani diwas" or "warning day" on Tuesday, and made quite a few controversial and bizarre statements.
He also took a dig at officials demanding bribes and said that those bureaucrats must be thrashed for being corrupt. "Ghoos mangey to ghoosa do, nahin maaney to joota do (anyone who demands a bribe must be punched, and if he still doesn't relent thrash him with shoes)," he added.
Meanwhile, this is not that first time that Singh is making news for such statements. Ahead of the Gorakhpur by-polls, he had said that the 2019 Lok Sabha elections were not just another polls but a clash between "Islam and Bhagwan."
Doesn't ring a bell? Well, this just might. Singh is the same MLA who had called West Bengal chief minister Mamata Banerjee 'Surpanakha,' Ravana's sister.
However, he isn't the only one making strange comments and has quite a few other MLAs for company. Just a few days ago, Rajasthan BJP MLA Arjun Lal Garg had advised the youth of the state not to smuggle drugs and opt for gold instead.
Addressing the Dewasi community in Jodhpur, the MLA from Bilara told attendees that they might as well smuggle gold instead as it is easier to obtain a bail in cases of gold smuggling.
"Let me tell you truly that the Dewasi community broke the record of Bishnois in drug peddling," Garg is heard saying in a purported video clip, according to the Press Trust of India. "If you wanted to do some 2 no. (illegal) business, do the business of gold. Prices of both are the same but it was safer to do gold business than drug," he adds.
And when it comes to weird statements, who can forget Tripura chief minister Biplab Deb. The Tripura CM had advised youngsters not to seek government jobs and instead set up paan shops for a living. He had said that the youth today should be self-sufficient and not wait to find government jobs.
Before this, Deb had grabbed the limelight for his comment on how satellite communication and the internet was first used in India during Mahabharata.
"Internet and satellite communication had existed in the days of Mahabharata. How could Sanjaya (the charioteer of King Dhritarashtra) give a detailed account and description to the blind king about the battle of Kurukshetra?" ANI quoted him as saying.
"It means internet was there, the satellites and that technology was there in this country at that time."
Joining ranks is Uttar Pradesh Deputy Chief Minister Dinesh Sharma, who recently said that Sita, wife of Lord Ram, was a test tube baby.