The 2018 Karnataka Election verdict has given analysts and columnists abundant raw material to arrive at deductions and conclusions about the 2019 Lok Sabha elections. The non-BJP political clout is euphoric over the fact that the Modi-Shah duo failed to form a government in Karnataka. The non-BJP and non-Congress third front is delighted that JD-S leader HD Kumaraswamy, who came third, was propelled to the chief ministership, leaving Congress little scope or choice in their bid to stop the BJP.
The Congress is delighted; it has a government in Karnataka, has a deputy CM and will have several ministers. It's larger objective has been met and the BJP has been stopped. The BJP is pleased as well, as it emerged as the number one party and almost won its desired majority.
Eureka moment for the Congress?
But the larger and more significant insights are now beginning to emerge. The Congress under Rahul Gandhi has found its formula - it does not have to defeat the BJP, only stop it from having an absolute majority. The non-BJP will have to depend on Congress to have a Central government without BJP and Modi. The challenge, therefore, for Modi and Shah is to not just be the front-runner but to avoid a hung Parliament and repeat an absolute majority.
The ability of the BJP to win, and win big, under Modi-Shah leadership has been losing its sheen since Gujarat and has now come under doubt after the Karnataka debacle. It cannot hope to win a majority with its own appeal. The saffron party is visibly at a low compared to four years ago.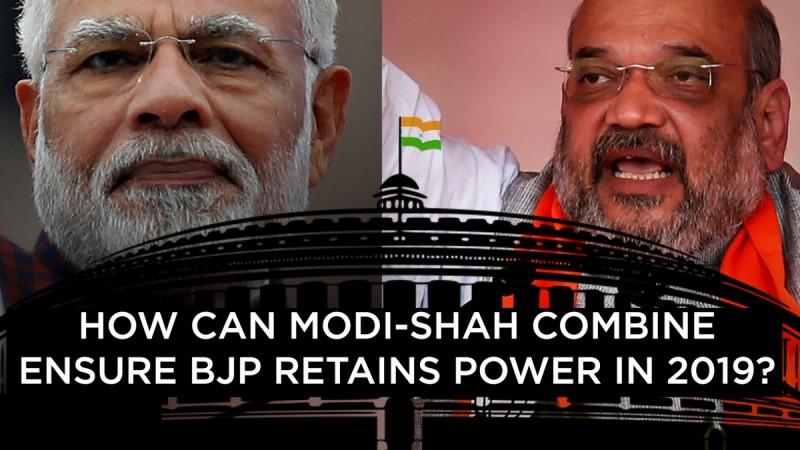 Five things Modi has to do to be able to create that magic again:
1. Petroleum under GST
This is an absolute no-brainer, and it looks like a strong possibility as several ministers and leaders of the BJP are talking about it. A sudden fall in prices to around the levels of twenty or more years ago will create a very positive vibe for the NaMo government across the country. Crores of people buy petrol and diesel every day and the prices are at a record-high. Petrol-diesel at Rs 50-40 levels will enable the BJP army to go gung-ho and claim two political points - one that a non-BJP majority could create a government which would reverse the decision, and that it was possible because the BJP runs an honest government.
2. Farmer investment
After the success of Rythu Bandhu in Telangana, both in addressing the agrarian crisis and its political benefit for TRS, most parties and government will be forced to replicate a more direct and pre-sowing cycle investment support for farmers. The Modi government can either deliver the entire sowing package of seeds, fertilisers, pesticides, urea to the farmer, or a direct cash payout of around Rs 50,000 per year, per farmer.
3. Ram Mandir verdict
The potential for communal trouble and a tense social mood owing to a closure of the issue is at its lowest. A decision from the Supreme Court favouring the construction of a Ram Mandir will give Modi a huge upswing. This will result in a political fortune in 2019 with the least social cost.
4. Get the defaulters back
They took loans, did not repay and very conveniently disappeared. They are now living good lives abroad, away from any fear of consequence or Indian law catching up with them, or make a step towards recovery. A quick and focused effort to get some of the bigger names on nonperforming assets (NPAs) will remove any shred of doubt or give Congress any power to throw aspersions on the integrity of the NDA government. Get them back, have them go to jail and the visual will ensure more Indians will wholeheartedly believe and back Modi for running a corruption-free government.
5. Jan Dhan Gan Man
A sudden 8:00 pm national broadcast, Mitron, is the absolute disruption for 2019. This time, the wealth is for the giving. Every Jan Dhan account of the poorest of the poor gets a deposit of Rs 10,000 to 15,000 by tomorrow morning. Write to PM if you have not received your money. Ministers, leaders, MPs, MLAs, CMs of the BJP hit the street checking with the common man, who runs to the bank to check their deposit slip. Selfies with it close the sordid bank queues chapter, positively. All is well. Modi will get his majority in 2019.
[Sriram Karri is a senior journalist and author based out of Hyderabad. The views and opinions expressed in this article are his and do not reflect that of IBT]