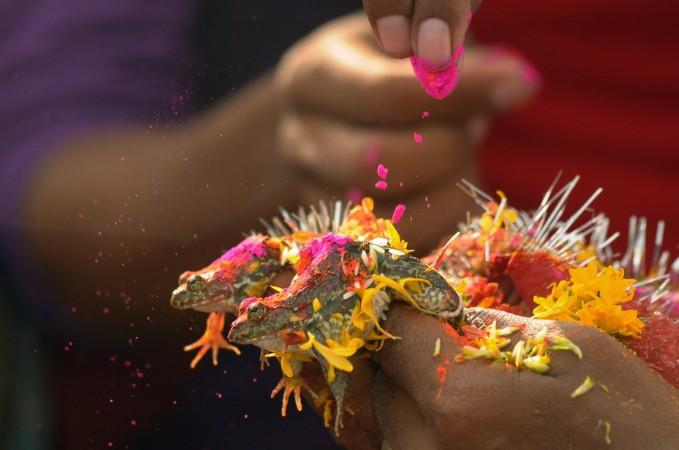 If Indians hadn't had enough with the "peacock mating with tears" gaffe, now a minister of state and BJP leader from Bharatiya Janata Party allegedly married off two frogs, and ask why: to appease the rain gods in the drought-hit state.
Lalita Yadav, junior minister for Women and Child Development, reportedly held the elaborate ritual at a temple in Chhattarpur on Friday, June 22.
It was not just Yadav, but several other local BJP members were a part of the bizarre wedding ceremony which is popularly called as 'Ashad Utsav'. While the temple priest solemnized the marriage of the two frogs, a grand feast to the guests was followed, according to a Hindustan Times report. The wedding was attended by over a hundred guests.
"The frogs' marriage and feast is a very old tradition to please the god," the temple priest Acharya Brijnandan said. He believes good monsoon season is bound to come after the marriage ceremony.
The ridiculous ceremony attracted flak from Congress party. The party members said her act will promote superstition in the state. It was not right to endorse superstition being a minister of state, they felt.

"It's an attempt to divert people's attention in the name of religion and old tradition. It would have been better if she had used this time and energy to solve people's problems. I, through my own means, supply around 50-100 water tankers in various parts of Chhattarpur city every day," senior Congress leader Chaturvedi told HT.
The opposition leader from Chattarpur also stated that instead of providing drinking water to the citizens, the BJP leader was busy organizing such events.
The bizarre wedding ritual was also recently organized in Uttar Pradesh's Varanasi when a group of people married off two plastic frogs to please Hindu rain god, Indra, for the onset of monsoon in the region, reported Times Now.