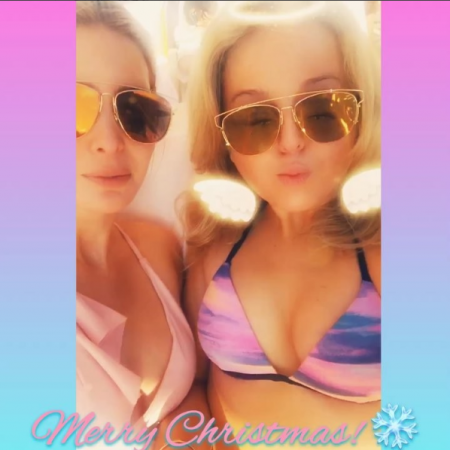 Tiffany and Ivanka Trump are two gorgeous sisters. The duo knows how to turn heads with their amazing style statements and daring choice of outfits at public events.
However, this Christmas, the Trump sisters showed the world that even away from the limelight, they have amazing dressing sense. Ivanka and Tiffany donned some gorgeous summer outfits at the Mar-a-Lago in Palm Beach, Florida, recently.
Also Read: Ivanka Trump's $4,690 outfit outdoes Melania's $1,625 coat; Tiffany's short coat gives you the chills! [PHOTOS]
Sharing a moment from their holiday destination, Tiffany posted a video featuring her and Ivanka by the pool and soaking up the sun. While Ivanka was seen in a stunning dress, Tiffany dared to don a two-piece bikini and flaunted her curves for the short video.
The colour and patterns on Tiffany's stunning two-piece swimwear could remind some of a twilight sky. Ivanka chose to don a gorgeous peach dress in tune with the sunny weather. While the two chose different options of clothing, the duo matched their eyewear in the video.
According to Daily Mail, the Trump sisters sported a pair of cutout aviator sunglasses by Dior which cost $585.
The Instagram video was made using a Christmas filter featuring a halo and angel wings (mostly focusing on Tiffany). The sisters were seen bonding under the Sun while "O Holy Night" played in the background.
Taking a week's break from the social media platform, the 24-year-old returned to Instagram to share the video.
A student of Georgetown University, Tiffany is making complete use of her college break. Before she packed her bags for Florida, Tiffany spent a few days in New York with her mother Marla Maples. The actress took to Instagram before the long Christmas weekend began to share a photo of herself opening presents with Tiffany at the former's NYC home.
Tiffany then joined the first family at Palm Beach to ring in the Christmas where she was photographed walking into Mar-a-Lago with security personnel accompanying her into the venue.