The White House has recently hosted the first National Thanksgiving Turkey under Donald Trump's presidency. The annual event saw the first family come together and celebrate the occasion.
Although the men kept it formal – with ties and blazers – it is the women who stole the show, Trump's daughters, to be more specific.
Also Read: Adorable panda photobombs Melania Trump in Beijing Zoo
While there is a huge fan following for Melania's style on social media, Ivanka walked out looking gorgeous in a Dolce and Gabbana outfit to prove that she is also a style diva. The first daughter chose to don two pieces from the Italian brand.
She wore a $2,995 double-breasted D&G peacoat over a $1,695 floral skirt by the same brand, Mail Online reports. She sported thick black tights under the short skirt, which sort of reminded us of a flight attendee's uniform.
But the outfit featured something unique on it. If you look closely, the red coat had about eight mismatched buttons across the front (embedded purposely), and a floral printed collar which matched her skirt. She completed the look with a pair of black patent stilettos, and tied her usually loose tresses into a bun and wore a black hair-band.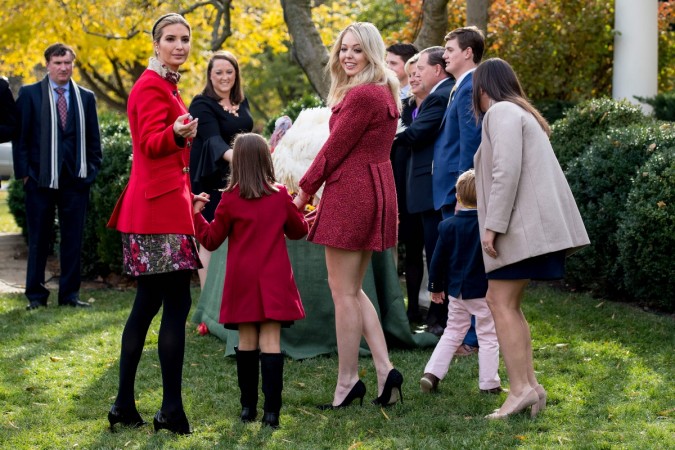 Meanwhile, 24-year-old Trump daughter Tiffany flaunted her toned legs as she sported an extremely short red coat. Tiffany seemed to be unaffected by the cold climate.
Her red and pink tweed coat does give some style inspiration for the cold season. However, it did cover her outfit of the day. Keeping the attire casual, she paired the ensemble with classic black pumps and leaving her golden locks falling off her shoulder.
She was photographed smiling with her sister Ivanka and her niece as the trio made their way to the event.
As for Melania, she looked in tune with the autumn season as she wore a gorgeous brown bold skirt paired with a turtle neck top and a $1,625 coat to go over it. She completed the ensemble with a pair of bold stilettos and resorting to her usual hairstyle for the occasion.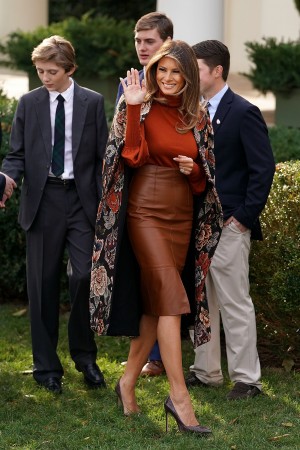 Also present at the event were Melania, Ivanka's husband and White House senior advisor Jared Kushner, and their son Joseph.