Melania Trump is making some hilarious memories of late. Accompanying US President Donald Trump on his tour of Asia, the FLOTUS has been in news for more than just her fashion.
Recently, the first lady made headlines with a group of girls, who came to meet Melania, gushed over K-Pop star Choi Min-ho's surprise visit. And now, it looks like an adorable panda has photobombed her picture.
Also read: Melania Trump stunned in a $3,826 coat but K-Pop Group SHINee's Choi Min-ho stole her thunder! [PHOTOS+VIDEO]
Melania, who is currently in China, decided to spend her Friday morning in Beijing Zoo. The first lady met and interacted with a panda named Gu Gu, Mail Online reports. The moment was not captured on the camera. But it is another Panda-Melania moment that caught us going awww!
After her meeting with the adorable animal, Melania had a meet and greet session with a group of young school children. Enjoying the sun on a cold Friday morning, Melania posed with the group of children as they held American and Chinese flags in their hands.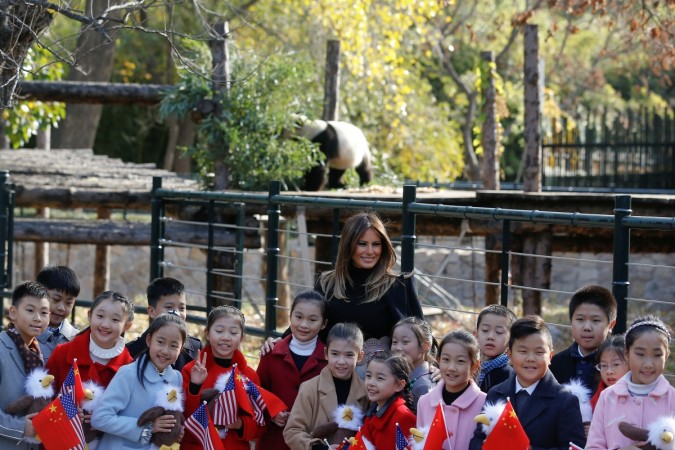 During the photo shoot, a panda unknowingly decided to photobomb the picture and posed as an adorable background in the group picture. Mail Online reveals that the male panda is named 'Meng'er' and his name translates to cute #2. Perfect name!
That was not the only panda connection she enjoyed. After the meet and greet session, Melania walked into the Panda House gift store and posed with a stuffed panda. She signed a panda print that said: "Thank you to the Beijing Zoo! Wonderful to meet Gu Gu!"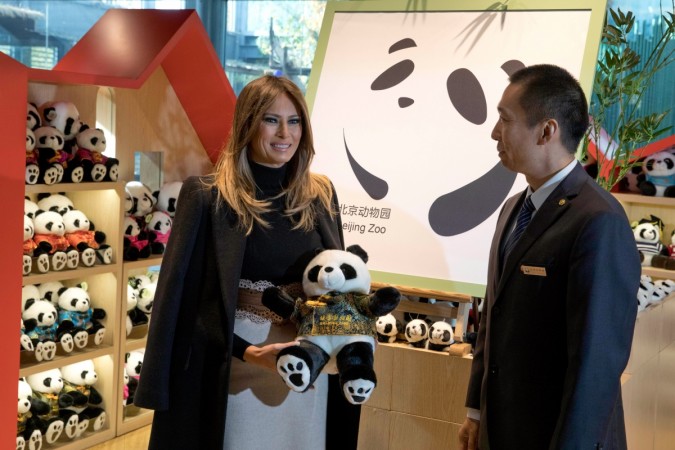 Melania attempted to keep her OOTD casual yet maintain the formal tone. She decided to turn towards a gorgeous cloudy grey body-grabbing high-waist long skirt, a black turtle next and draped a black coat over her shoulders.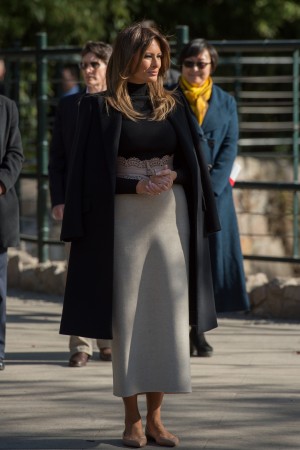 She accessorised her toned waist with a lace-designed brown waist belt that complimented the skirt well. She decided to let her tresses fall over the coat.
I am leaving China for #APEC2017 in Vietnam. @FLOTUS Melania is staying behind to see the zoo, and of course, the Great WALL of China before going to Alaska to greet our AMAZING troops.

— Donald J. Trump (@realDonaldTrump) November 10, 2017
President Trump revealed that while he headed for Vietnam, Melania is staying back in China to visit Great Wall before she leaves.