The process of nomination for elimination from Bigg Boss Telugu 2 was held on Monday (22nd episode) and eight housemates/contestants were nominated for the eviction in the fourth week.
On the 22nd day, the Bigg Boss gave a secret task to Tanish and Amit Tiwari. While they were busy with the task, Tejaswi Madivada was seen giving clarifications on her relationship with Samrat to various housemates. On the other hand, Tanish was seen flirting with Instagram sensation Deepthi Sunaina.
Amidst these developments, Bigg Boss kick-started the process of nomination for elimination. He called the housemates in pairs and asked them to nominate two people. Meanwhile, he also warned them against discussing the names they nominated with others inside the house.
| | |
| --- | --- |
| Pair | Nominees |
| Geetha - Babu Gogineni | Deepthi Nalamoti and Tejaswi Madivada |
| Tejaswi - Roll Rida | Ganesh and Kaushal |
| Ganesh - Nandini | Tejaswini and Kaushal |
| Deepthi - Shymala | Tejaswini and Babu |
| Samrat - Bhanu Sree | Samrat and Nandini |
| Deepthi Sunaina - Kaushal | Shymala and Ganesh |
| Amit and Tanish | Kaushal and Geetha |
After hearing their suggestions, big boss announced that Tejaswi, Kaushal, Ganesh, Shyamala, Nandini Rai, Deepthi, Babu and Geetha were nominated for elimination from the Bigg Boss Telugu 2 in the week four. He also ordered Roll Rida to lock Geetha Madhuri as a punishment for revealing the reason for nominating a constant.
IBTimes held a poll to find out who among the eight housemates would be eliminated from the house of Bigg Boss Telugu 2. We thank all readers, who took part in this survey and cast their votes to the contestant who they wanted to send out of the house this weekend. Here are the results.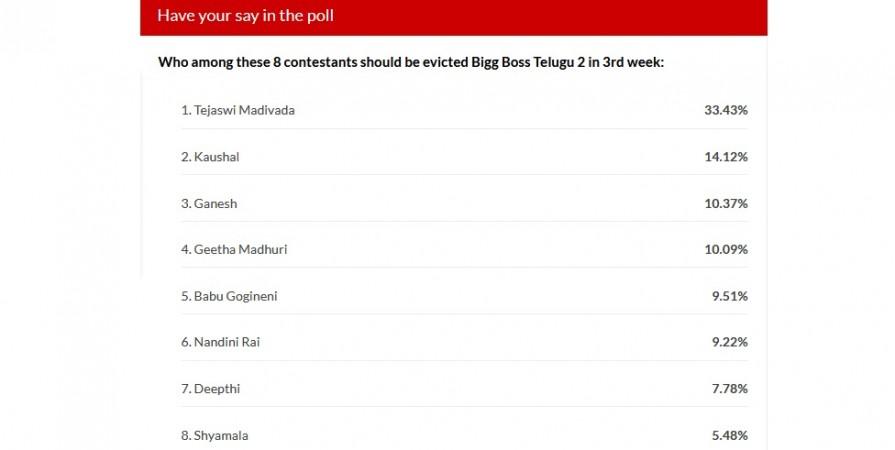 Star Maa has opened the voting lines. The viewers can save their favourite contestants by voting through Google and phone calls. Here are the numbers of the nominated contestants. The audience can save them by giving a missed call to their numbers.
Syamala - 7729998802
Tejaswi - 7729998806
Ganesh - 7729998803
Geetha Madhuri - 7729998801
Babu Gogineni - 7729998805
Deepthi - 7729998808
Kaushal - 7729998817
Nandini - 7729998818