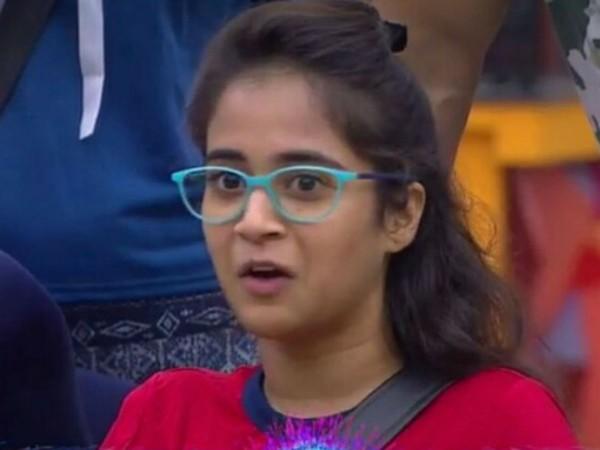 Deepthi Sunaina aka banana has become a social media sensation with her dance videos on YouTube but apparently, her sense of humour is not on par with her dancing prowess. The youngster who is now in Bigg Boss Telugu 2 has tried to crack a joke to her housemates on Tuesday episode but in vain.
Star Maa has tweeted a promo and it offers a glimpse at what is going to be the highlight on Tuesday's episode of Bigg Boss Telugu 2.
In the promo of Bigg Boss Telugu 2, all the housemates are seen gathered in the living room and having a gala time. Amidst this jubilation, Roll Rida says, "I am still waiting for Cheema joke. Suddenly, Deepti Sunaina grabs this opportunity and says, "Yes! I will tell you joke."
Big Boss interferes Deepthi Sunaina and asks her to set her mic right. Kireeti Damaraju shouts in excitement, "Even big boss is interested to listen to your (Deepthi's) joke." Having corrected her mic, she goes on to narrate the joke on two ants, which appears to be lame, but her innocent expressions makes it sound cute.
The housemates burst into laughter because the joke fell flat and not that it cracked well.
However, in reply to Star Maa's post, some netizens resorted to trolling Deepthi Sunaina, while a few were of the opinion that she should be the first contestant to be eliminated from the house.
It should be mentioned that Deepthi Sunaina has been trolled several times on social media for her dance videos. On the first day of Bigg Boss Telugu 2, Sanjana Anne said she did not know her and she remembers banana when she hears her name. Following this, some viewers made fun of Deepthi by nicknaming her banana.
Endi ra bhayi aa contestants enti valla gola enti ... Arey swami janalu ni entertain cheyandi ra cheema jokelu bommarilu movie anukonara ?#BiggBossTelugu2 pic.twitter.com/3VN3E4YQOj

— ? Follow ur ❤ (@SRK_RF) June 12, 2018
Banana Crack a joke.. And #BiggBoss And Contingents Also Shaked.... ?????? New Promo....

Video link: https://t.co/BiXght4jod #BiggBossTelugu2 #DepthiSunaina #BiggBossTelugu2 pic.twitter.com/KPDTUQ86HN

— Telugu Comedy Buff (@ComedyBuff2018) June 12, 2018
Koncham harsh ga behave chesiddi... Harsh kadura ..
Pichii pic.twitter.com/nyHT6qFiXZ

— Vijay (@im_vijay__) June 12, 2018
Banana overacting eliminate her 1st pic.twitter.com/rB772OjOAs

— . (@gangadhartweetz) June 12, 2018
To vote for your favorite contestant Give a Missed Call #BiggBossTelugu2 pic.twitter.com/IgzfGHdQTM

— STAR MAA (@StarMaa) June 11, 2018
To vote for your favorite contestant Give a Missed Call #BiggBossTelugu2 pic.twitter.com/v7F8RnKOlQ

— STAR MAA (@StarMaa) June 11, 2018
Banana Crack a joke.. And #BiggBoss And Contingents Also Shaked.... ?????? New Promo....#BiggBossTelugu2 #DepthiSunaina #BiggBossTelugu2 pic.twitter.com/a8ghTm9ith

— Bigg Boss Telugu (@BiggBosstelugu2) June 12, 2018
Hello Sanjana Evaramma Nuvu Banana Ani ante meme Annali ??Be in Your limit?..banana akka manchitanam #BiggBossTelugu2 pic.twitter.com/RQLzpJ0v3n

— RaGhu ?? (@urstruly__Raghu) June 11, 2018
Papam Normal ga pelivadam radu vallaki
And I love Dat?
-Banana
Eh Sanjana Kavalani Gelukuntundi#BiggBossTelugu2 pic.twitter.com/DC8hLJfKzV

— RaGhu ?? (@urstruly__Raghu) June 11, 2018
Banana antaa ??#BIGGBOSS2TELUGU #Biggbosstelugu2 #Telugu #ComedyTonic #TeluguComedy #abbayigaru pic.twitter.com/30yeYlaZHO

— Abbayigaru (@Abbayigaru1) June 11, 2018
@tarak9999 : Deepthi banana Sunaina ki vote vesthe #BiggBossTelugu2 pic.twitter.com/0TZd27UzIF

— Rãhul (@iRahulReddy) June 11, 2018
Papa "Banana" inkosari noru ethavante nee nava randhralalo mynam koortha. #BiggBossTelugu2 pic.twitter.com/CizVFd2U9c

— Rick Sanchez (@Gazzorpazorp) June 11, 2018