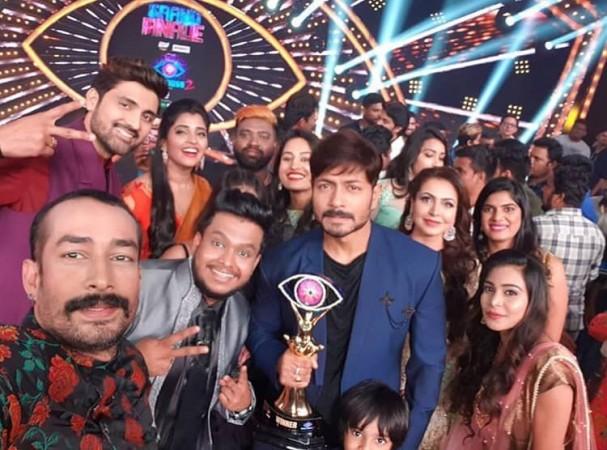 The grand finale of Bigg Boss Telugu 2 took place on Sunday. Kaushal Manda has won the title of Bigg Boss Telugu 2, while singer Geetha Madhuri bagged the second position as the runner-up. Kaushal Manda was presented the Bigg Boss trophy by Tollywood's top hero Venkatesh.
Though Kaushal Manda's win has been celebrated widely, some of the ex-contestants of Bigg Boss Telugu 2 are visibly unhappy. Actress Tejaswi Madivada, humanist Babu Gogineni and actor Kireeti Damaraju have been vocal against Kaushal and his fan brigade right from the start.
Kaushal's win has been like a prick for some of the ex-contestants like Tejaswi Madivada and Babu Gogineni, as they were out of the show on a negative note. Tejaswi Madivada and Babu Gogineni seem to have burnt the midnight oil to propagate negative things on Kaushal Army and Kaushal.
In the recent reunion of all the contestants of the season, Tejaswi Madivada's behavior was weird. She tried to prove a point that she has lost nothing by being on the show, while she gave a cold shoulder to Kaushal. Though Kaushal did not bother much, it was clearly visible that the duo was not comfortable seeing each other.
After the Bigg Boss Telugu 2 title announcement, Tejaswi Madivada and Babu Gogineni have shown their displeasure clearly. Tejaswi went one step further and invited some of the ex-contestants to her party. She clicked a picture with all her Bigg Boss buddies and captioned it with a quote saying "Who is the winner now?".
This Instagram post by Tejaswi Madivada refers to Kaushal and his fans. Tejaswi Madivada's post has grabbed a hugely negative vibe and also irked Kaushal's fans. There were so many posts related to Tejaswi's cold behavior.
"If she cannot come over her defeat even now, then no one can save her," said one of the general viewers of Bigg Boss Telugu 2. Even Twitter was filled with hate messages against Tejaswi Madivada.
#TejaswiniMadivada
I wonder why are u not feeling ashamed for what you have done in the house. Please don't let your next generation see those video and judge your personality. Be like you but be humble and sensible too.I don't hate u but I don't even like you #BiggBoss2Telugu

— pratheek (@mpratheek) October 1, 2018
I rarely watch TV, but a few characters on #BiggBossTelugu2 got me hooked. I started rooting for underdog Kaushal as he stood up to bullies. I so wanted people to cut that arrogant and egoistic Babu, Tejaswi and Tanish down to size. Happy to see Kaushal win. Bye-bye TV!

— Ganesh Ravuri (@ganeshravuri) October 1, 2018
Miku mire genuine,aayana fake ani anipinchi undochu ,kani jarigina danni accept cheyyaka .Miru pette status lo mee asuya ,mee ahankaram ,aayana mida kopam .Ive kanipistunnai mari .Ys you guys won our hearts,but he just got the title .Chala chinna line undi anthe .#TejaswiMadivada

— nayak navodayan (@iamnaik) October 1, 2018