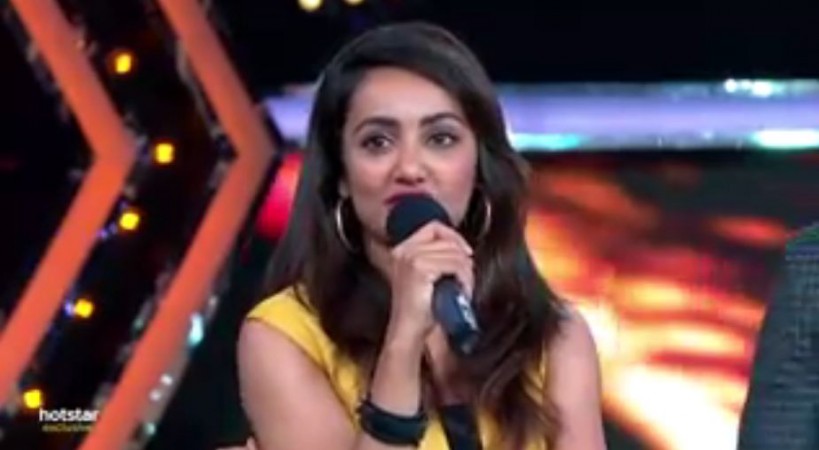 Tejaswi Madiwada, who was eliminated from the Bigg Boss Telugu 2 house on Sunday, has been flooded with emotional mails and messages by upset fans.
Tejaswi was probably the most cheerful contestant in the season 2 of Bigg Boss Telugu. Right from the day one, she had been the centre of attraction in the house with her crazy antics. Her bonding with Samrat Reddy also created a lot of curiosity about the show.
But many were upset and irritated with her overacting and criticised her on social media. She was nominated a couple of times in the past, but was saved by the viewers. However, she was nominated for elimination with four other contestants in the fifth week. The audience, who could not take her overacting anymore, voted her out of Bigg Boss Telugu 2.
Most of the contestants on Bigg Boss Telugu 2 are matured and have always stayed away from getting in to fight and argument with other housemates. But Tejaswi Madiwada was successful in creating drama and entertaining the viewers. Now, some viewers, who feel that the show will run with zero entertainment, have sent out emotional message to the Ice Cream actress.
A viewer named Rishi (@rishi457yjr) tweeted, "Well played @TejaswiMadivada If you're out of @bigbossTelugu ill be happy.if you're in I'll be most happiest person.if you're out of the house then biggboss house won't be house anymore. Biggboss house won't deserve you, the world desrves you loveyou @TejaswiMadivada".
Some viewers also emailed Tejaswi Madivada, expressing their sadness over her elimination from Bigg Boss Telugu 2. Soon after the eviction, the actress shared a couple of emotional mails on social media. She captioned the images as "made some difference, thankyou guys. [sic]" Here are those letters.
Hello Tejaswi Madiwada,

I have no idea if you check these emails or if you get a chance to see this but irrespective I would like to acknowledge the way you have carried yourself in big boss house.

You were one of the happy ho lucky persons that I have ever seen. Your love and open mindedness is unmatchable to any other person in the house. You have been true to yourself and feel proud as I say I have learnt a lot seeing you everyday in big boss. It wouldn't be the same house again without you and I can already see a void that no other contestant can replace.

I am sure there are still lots of unspoken fans out there who love you for what you are and truly disappointed of the fact that you are out now. Nevertheless, be that happy person that you always are because' nuvu intlo vala manasulu e kadhu but, ma manasulu ni kuda geluchukunnav'.

Sincerely,
Navya.
Dear Teju,

I cried after watching today's episode.... I voted you each and every day... Even I have created accounts to vote you... There will be no fun n no more entertainment in boss house"'...

U r the best and be urself forever and ever... Love you Teju.... Missing you already

From urs fan,
Sahaja
Tejaswi Madivada also took to her Instagram page to thank everyone, who supported her during her days in Bigg Boss Telugu 2. The actress wrote, "Back in my world THANKYOU SO MUCH EACH AND EVERY PERSON WHO STOOD BY ME ,CANT THANK YOU ENOUGH ,WILL MEET YOU ALL SOON !"