Two housemates are in the danger zone of elimination from Bigg Boss Telugu 2 in the week 5. Tejaswi Madivada may be evicted, while Samrat is likely to be saved, according to IBTimes India poll.
The nomination process for elimination has undoubtedly been one of the biggest attractions of Bigg Boss Telugu 2. Keep aside the traditional method, the Big Boss has been finding new ways for nomination for eviction every week and the fifth week was not an exception to this. He had another interesting task for this nomination process on the 36th day.
The Big Boss had asked captain Geetha Madhuri to bind all the contestants into couples with handcuffs on the 36th day. At the end of the day, he asked each of the couples to release one contestant, who they want to be safe from nomination for elimination from Bigg Boss Telugu 2.
Tejaswi Madivada, Samrat Reddy, Tanish, Roll Rida and Deepthi ended up being nominated for eviction.
As usual, Nani addressed all the housemates on the 41st day and had a lot of fun with the housemates. At the end of this episode, the host announced that Tanish, Roll Rida and Deepthi are protected from the eviction. He signed off, telling Tejaswi and Samrat, "One of the two will have to walk out from the show."
IBTimes India held a 5-day-long poll to decide who should be eliminated from Bigg Boss Telugu 2 in the fifth week. This survey has received a superb response from thousands of viewers taking part in it. Tejaswi has been the top choice for the eviction as she has got highest no of votes (53.15 percent). Samrat has received 6.62 percent of the total votes and it is the lowest no in this poll.
According to IBTimes India's poll, Tejaswi is likely to be shown doors this weekend, while Samrat remains safe inside the house of Bigg Boss Telugu 2. Here are the results of our survey.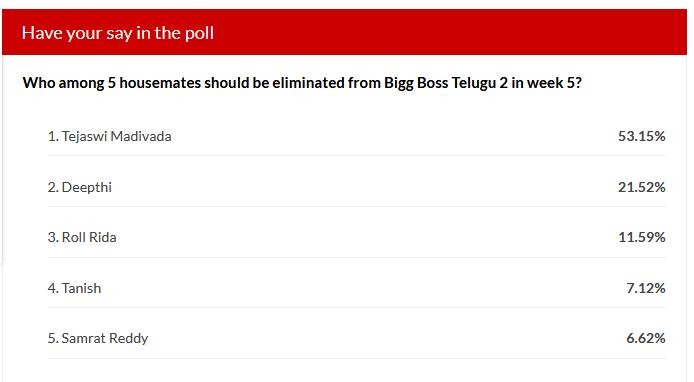 However, the bonding between Tejaswi Madivada and Samrat Reddy has been the talk of the town and it has obviously one of the reasons for a huge response for Bigg Boss Telugu 2. The eviction of these lovebirds would surely affect viewership of the Nani-hosted reality show to some extent.
Tejaswi, who is known as a drama queen, has been irritating for many viewers, but everyone will have to accept the fact that she has been the centre of attraction with her overacting. She is responsible for making this interesting more than any other housemates. Her elimination is likely to badly affect the TRP of the show.