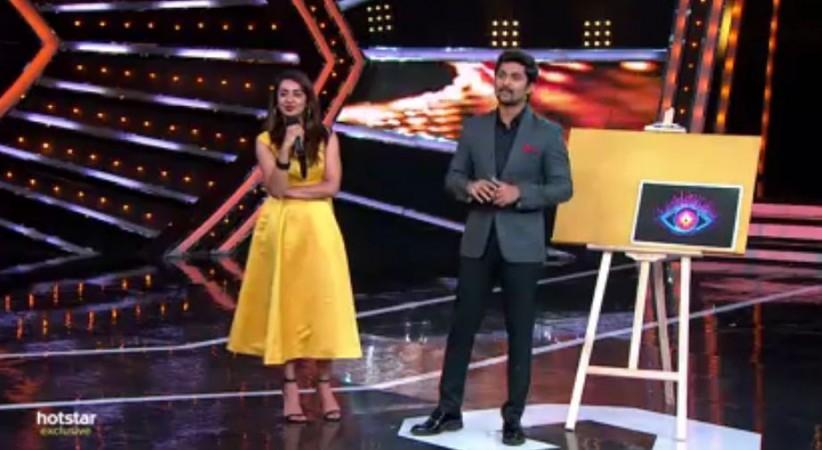 Actress Tejaswi Madivada has been eliminated from Bigg Boss Telugu 2 in the fifth week, while Samrat Reddy remained safe from eviction. She dropped the Bigg Bomb on Ganesh, before leaving the house.
Sunday episode of Bigg Boss Telugu 2 started with a superb performance by host Nani, who started off with the narration of a short story. Then he went to watch the Na Nee TV, which showed the housemates involved in their own activities. Later, Lakshmi manchu is seen entering the house to promote her movie Wife of Ram. The house members are seen enjoying her presence.
Nani gave an interesting task to Lakshmi Manchu, who had to guess whose behavior he was aping. She is successful in guessing everyone's acting. The host asked the actress to reveal the name of contestant, who would be evicted. She announced that Tejaswi Madivada was eliminated from the Bigg Boss Telugu 2, while Samrat Reddy is safe in the house.
Tejaswi's elimination disappointed the housemates, who were seen getting very emotional. Nandini, Samrat and Tanish were seen weeping. But Tejaswi promised that she would get in touch with everyone after the completion of Bigg Boss Telugu 2. She tried to be practical and bids a bye. She said that she was happy to be out along with Lakshmi Manchu.
Later, Tejaswi joined Nani on to the stage. Nani asked her to give feedback on all the contestants by giving them score. She gave 10/10 to Samrat Reddy, 10 to Babu Gogineni, 10 to Tanish, 9 to Roll Rida, 8 to Nandini, 8 to Deepthi, 8 to Deepthi Sunaina, 8 to Geetha Madhuri and 8 to Ganesh.
While giving scores, Tejaswi said that Kaushal is one of the most selfish contestants. She even affirmed that she was never wrong about analyzing Kaushal's behavior. She revealed that Roll keeps farting in the house. Later, Nani revealed the scores to the contestants and said that Tejaswi is seen happy enough and she is being a real sport.
Tejaswi advised Tanish and Samrat to play well. She dropped the Bigg Bomb on Ganesh. Before leaving, she slammed Kaushal saying, "You might win the game, but I have won the hearts of the housemates." Later, Nani shows her clips from her memories in the Bigg Boss house. She got emotional and left the stage.