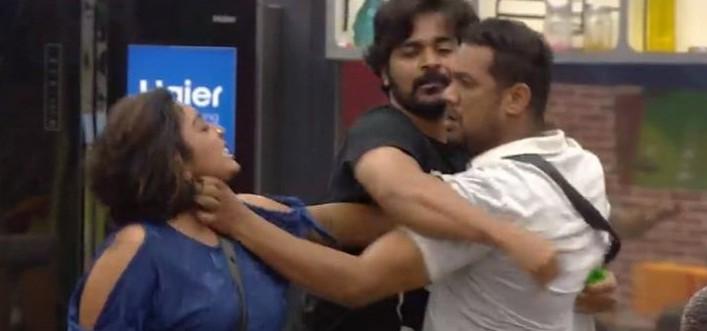 The September 7 episode of Bigg Boss Malayalam witnessed some very dangerous fights between Sabumon Abdusamad and Hima Shankar. The argument between the duo was so intense that at one point in time, Sabumon literally manhandled Hima. It should be noted that manhandling a person inside the house is an offense as per the game's law, and the authorities can evict Sabumon citing this reason.
It was Hima Shankar who initially started signs of manhandling during the quarrel. While trying to irritate Sabumon, Hima Shankar hit him slightly with a deodorant bottle. This act from Hima Shankar irked Sabumon to the core, and later he grabbed the neck of Hima and pulled her strongly.
This is for the first time that such a serious incident is happening in Bigg Boss Malayalam house. A few weeks back, Basheer Bashi had alleged that Hima tried to stab him with a knife.
In Facebook groups like 'Bigg Boss Malayalam Fans', audiences have already started heated discussions about this topic. Most of the people support Sabumon for his act, as Hima Shankar is the one initially created the provocation. However, a minority believe that Sabumon should be sacked as he tried to physically harm a woman.
In the meantime, a section of social media users has started alleging that Srinish is such a lazy captain who is not trying to solve problems which persist between housemates. These users allege that Srinish is only interested in romancing Pearle Maaney. Interestingly, while Sabumon and Hima were quarreling, Srinish was seen hugging Pearle for several minutes.
Host Mohanlal will enter the Bigg Boss house today, September 8 and in all probabilities, the initial discussion will be regarding the issues between Hima Shankar and Sabumon. It should be noted that Hima is already in the nomination list this week, and as per latest trends, she is the most likely contestant who will be evicted. Mohanlal will announce the name of the evicted person this week, and audiences are very eager to know whether Sabumon will also join Hima in the exit journey.