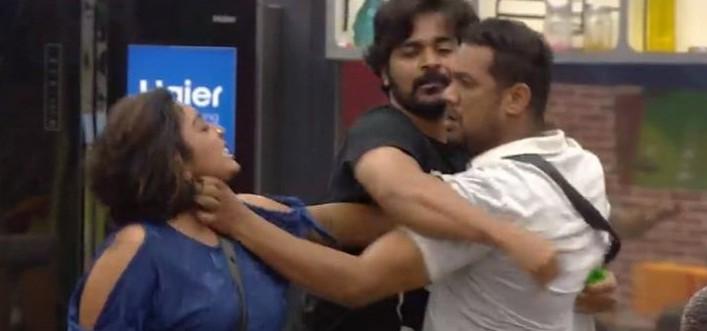 In the September 7 episode of Bigg Boss Malayalam, Sabumon Abdusamad and Hima Shankar engaged in a dirty fight, which finally resulted in manhandling. It all started when tiffs originated between Sabu and Hima while watering plants. Hima Shankar alleged that Sabumon is a man with no humanity. Sabumon teased Hima for talking with plants. He also added that plants do not have the capability to slap Hima, and that is why she is dealing with them.
Later, in the house, Hima Shankar continuously tried to provoke Sabumon. In the lunchtime, Sabumon and Suresh prepared egg omelet. While having food, Hima mocked Sabumon stating that she will also eat egg whenever she gets a chance. As Hima's teasing went beyond the limit, Sabumon told her that she should learn to respect food. He also added that people will learn these etiquettes only if they are born to good father and mother. Sabumon alleged that Hima is such a person who considers parents as her enemies. Aristo Suresh also supported Sabumon and told that there is no use in talking to Hima.
When Sabumon and Suresh went to the smoking room, Hima Shankar followed them and started fighting again. Even though Srinish tried to console Hima, she did not listen and started shouting at Sabu. Hima blamed Sabu for not respecting women and alleged that Sabu is a real devil.
While in the kitchen, Pearle Maaney asked Hima Shankar to control her temper. However, Hima did not listen to her words and started hurling abuses on Sabumon. Shiyas also asked Hima to shut up, but she continued her verbal abuse. She also pledged that Sabumon will not eat food properly from the house. When Sabumon was having tea, Hima Shankar used a spray and tried to make it non-drinkable. These actions finally resulted in a physical assault, and the housemates tried their best to console both of them.
In the final moments of the episode, Aditi and Pearle Maaney started teasing Shiyas. Aditi and Pearle told Shiyas that David John has more looks than him. Sabumon also supported Aditi, and added that he has never seen Shiyas even in a roadside flex, Shiyas told that he is Raymond's model. Sabumon told him that all the people who wear Raymond suitings are not the company's model. Later, Hima and Shiyas started talking against Sabumon, and the episode came to an end.