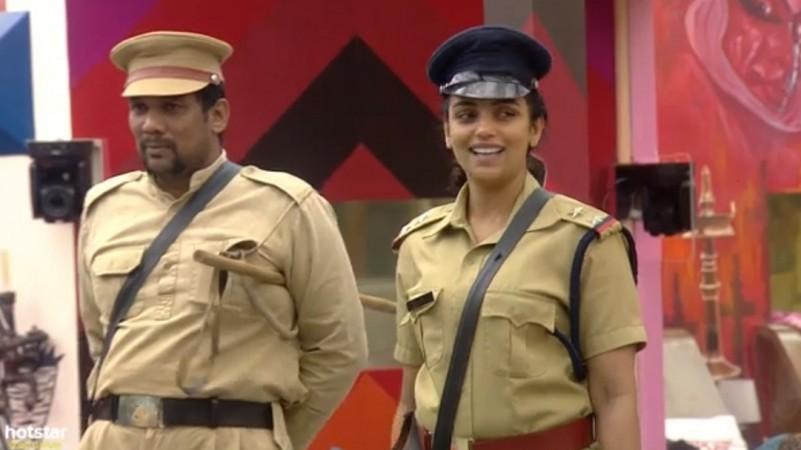 The July 11 episode of Bigg Boss Malayalam began with a bang as all the contestants danced along with the hit track 'Minnaminunge' from the Malayalam movie 'Chathikkatha Chandhu'. Later, Archana Suseelan and Shiyas were seen talking about the restrictions women will face after getting married.
At around 12.15 PM, the Bigg Boss asked Sabumon Abdusamad and Swetha Menon to come to the confession home. In the confession room, the duo was given police uniforms, and the Bigg Boss asked them to investigate the murder and find the culprits. In the meantime, Aristo Suresh and Diya Sana who were murdered during the Tuesday episode were wearing the attire of dead bodies and were seen sitting in a corner.
After wearing the police uniform, Swetha Menon and Sabumon started the initial investigation. They initially interrogated Shiyas, and asked about the people whom he suspects as the killer. However, in this initial phase of interrogation, Shiyas successfully tackled the interrogation. It should be noted that Shiyas and Ranjini Haridas are the killers with masks in the Bigg Boss house.
Later, the investigation officers questioned Pearle Maaney. As Pearle answered the questions in a carefree manner, the officers started implementing third-degree acts on her. While the officers questioned Hima Shankar, she claimed that Srinish will be the killer in all probabilities. She added that Archana and Deepan could be also suspected for these murders.
In the meantime, the black sheep in the Ranjini got the order to kill the lead investigation officer Swetha Menon. Ranjini was asked to remove Swetha's police hat with her 'lathi' (police stick), and surprisingly, the Idea Star Singer anchor completed the task with ease. As Swetha too got killed by the killer, Sabumon tightened the investigation process, and he finally made Shiyas confess that he has killed Diya Sana.
With the clue he got from Shiyas, Sabumon nabbed Ranjini too. Later, Bigg Boss announced that Sabumon has arrested the culprits. Soon, Ranjini alleged that it was due to Shiyas' mistake that Sabumon found the culprits.
In the final moments of the episode, Asianet showed a short teaser of the June 12 episode. In the teaser, we can see Shiyas fighting with Diya Sana and Archana Suseelan stating that he is not a slave. In the clip, Shiyas also makes it clear that he will eat how much ever he wants, which indicates that the contestants are now fighting each other in association with their luxury budget.