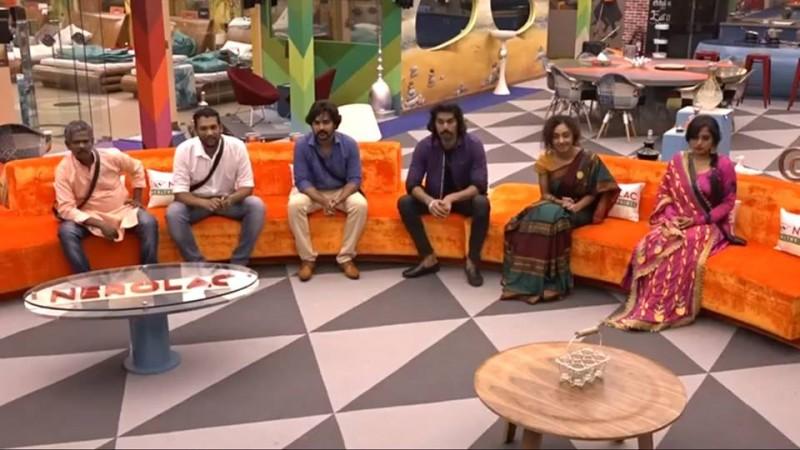 10.35: Pearle orders Srinish to clear out from the bedroom. The Nayika Nayakan anchor strongly argued that she did not want to spend time with Srinish never ever in her life. Srinish revealed that Pearle has shown her true color. The serial actor alleged that Pearle has faked love with him to reach the grand finale of Bigg Boss Malayalam. Sabumon asks Pearle and Srinish to solve the issue. Just in: Who wins Bigg Boss Tamil? Here is the answer
10.29: Hearing the comments of Srinish, Pearle becomes angry and revealed that she did not want to stay together with Srinish. Srinish replied that he expected this kind of attitude from Pearle. He added that Pearle has cheated him.
10.26: Pearle says that she wants to stay in a pleasant mood. Srinish says he will soon sent Suresh to her bedroom so that she can stay happy.
10.24: Pearle informs Srinish that she wants to sleep. The 'Nayika Nayakan' anchor once again tries to avoid Srinish, and it makes him irritated.
10.23: The time is now 02.00 AM. Pearle and Srinish continue their usual night talks. Srinish informs Pearle that the evicted contestants have raised suspicions regarding the genuineness of Pearle's love.Snehan's shocking comments on Bigg Boss Tamil results
10.14: Bigg Boss asks Archana, Anjali, Deepan and Basheer to leave the house. After some time, Bigg Boss asks Anoop, Diya Sana and Ranjini Haridas to go out of the house.
10.12: Ranjini and Shiyas now start talking about the romantic relationship between Pearle and Srinish. Shiyas reveals that Srinish is serious about his love with Pearle. He also added that Pearle may ditch him.
10.10: Bigg Boss asks Hima, Aditi, Manoj and David to leave the house.
10.08: Ranjini Haridas, Archana Suseelan and Sabumon Abdusamad now starts talking with Ramesh, the camera.
10.00: Anoop Chandran reveals that he missed Sabmon a lot after leaving the house.
09.57: Ranjini Haridas now shares her experience spending time in Bigg Boss. Ranjini reveals that contestants will surely miss Bigg Boss once they leave the house.
09.56: Manoj Varma lauds Sabumon stating that he is the real Bigg Boss.
09.50: Contestants now starts sharing their experiences of coming back to the house. Archana Suseelan reveals that she will miss Bigg Boss house until her death. Deepan says that the memories in Bigg Boss house still haunts him.
09.46: Shiyas and David John start fighting. Soon, Archana Suseelan, Deepan and Aditi enter the house. Archana Suseelan also congratulates Pearle Maaney for becoming the only lady who entered the finals.
09.40: Ranjini Haridas enters the confession room. Everybody now search for her, but she remains inside the confession room itself. She now makes her grand entry. Everybody starts hugging Ranjini Haridas.Sabumon says that finally his bodyguard has arrived inside the house.
09.38: Srinish asks Diya Sana about the happenings outside the house. Srinish tells Pearle Maaney that everybody is doubtful regarding the genuineness of their relationship.
09.32: Manoj Varma tells Srinish not to hurt anyone to win a reality show. Varma asks Srinish never to be fake while behaving with others.
09.30: Manoj Varma now asks Srinish whether he is in a serious relationship with Pearle Maaney. He asks about Srinish's ex-girlfriend who is there outside the house.
09.28: Anjali asks Shiyas whether he is a guy. Anjali was referring to Shiyas' previous comments on her raising the doubt that she is really a woman.
09.25: Manoj Varma, Basheer Bashi and David John too enter the house.
09.24: After seeing Diya Sana's tattoo, Sabumon asks whether it is a rash mark on the skin.
09.21: Shiyas tells Hima that Sabu is the most crooked gamer in the house. Hima reveals that Sabumon always tries to eliminate genuine people from the house.
09.20: Diya Sana lauds Pearle for becoming the only woman contestant to reach the grand finale of Bigg Boss Malayalam.
09.18: Sabumon asks Suresh whether Swetha Menon and Ranjini Haridas will enter the house. Shiyas and Anjali now start dancing with Suresh's song. Diya Sana makes her entry from the store room, and all the housemates start jumping with joy.
09.17: The time is now 05.15 PM, and Anjali Ameer enters the house with grace.
09.15: Anoop Chandran now hides inside the cardboard to surprise everyone again. Sabumon pours a bucket full of water on Anoop.
09.13: Sabumon sarcastically informs Bigg Boss that the peaceful atmosphere of the house has been shattered due to Hima's entry.
09.12: Hima Shankar now shares her Himalayan trip experiences to Sabumon Abdusamad. Sabumon starts teasing Hima Shankar for her new hairstyle. Hima Shankar says that she has achieved a new tomboyish look.
09.10: A cardboard box can be now seen lying on the front door of the house. Shiyas initially opens the board. All the contestants join Shiyas in the search, and Hima appears from the board. Hima is seen in a new hairstyle, and everybody lauds here for the new look.
09.08: Pearle Maaney says that Anoop Chandran has put on weight after leaving the Bigg Boss Malayalam house. The time is now 02.30 PM, and the contestants have now gathered around the dining table for casual talks.
09.05: Anoop Chandran secretly enters the house via the confession room. All the contestants jump with joy. Anoop Chandran hugs Srinish, Pearle Maaney, and Sabumon Abdusamad.
The much-anticipated Bigg Boss Malayalam finale is just 24 hours away and housemates are gearing up to welcome the evicted contestants to the house for one last time before everybody exits the show.
A newly released teaser by Asianet indicates that all the sixteen housemates who were present in the house during the opening episode will meet once again on Saturday before Mohanlal announces the winner of this season on Sunday.
Five contestants -- Sabumon Abdusamad, Pearle Maaney, Shiyas Kareem, Aristo Suresh and Srinish Aravind -- are the finalists of Bigg Boss Malayalam, and out of these five contestants, Mohanlal will name the housemate who has emerged victorious in the audiences' poll.
As per the latest statistics, Pearle Maaney is the most likely contestant to win the Bigg Boss title. However, Sabumon Abdusamad and Shiyas are closely trailing her in winning the title and this makes the race a triangular competition.
In yesterday's episode, Pearle Maaney was seen trying to ditch her boyfriend Srinish, and this move from the 'Nayika Nayakan' anchor has brought her image under bad light. Many social media users believe that this unexpected move from Pearle will negatively impact her chances to win the finale, and if their predictions become true, then Sabumon Abdusamad will taste the ultimate glory.
The official voting process will continue until 12 AM tonight. Voting in these final moments will be quite crucial, especially for Pearle Maaney as she is leading from the front only in a very small margin.
We will start updating the live events in the house beginning from 9 PM IST. Stay tuned.