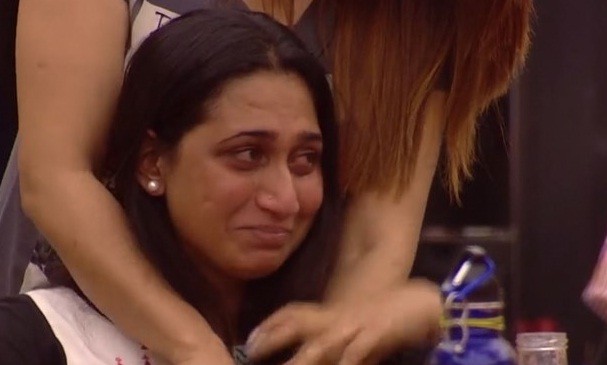 It was one of the most eventful days in Bigg Boss Malayalam on August 8, 2018. Anjali Ameer who returned to the house in a wheelchair revealed to everyone that she will no longer be a part of the show due to health ailments.
Bigg Boss asked everyone to say adios to Anjali Ameer. Srinish danced for Anjali, while Suresh said sorry to the actress for keeping distance with her in the initial days of her arrival. Aditi started crying saying that she had hurt Anjali during the nomination process. The contestants then thanked Anjali after which the 'Peranbu' actress left the house.
Episode Recap
In the initial moments of the August 8 episode, Pearle Maaney hid the cigarette packet of Aristo Suresh above one of the 60 cameras installed in the Bigg Boss house. Suresh with the help of Basheer found the cigarette packet and mocked Ranjini, saying that potatoes are more harmful than cigarettes.
Soon, Bigg Boss announced the luxury task. Ranjini and Aditi played the first task, and their primary goal was to find the treasure hidden in Chakravyuha. With the help of Ranjini, Aditi completed the task with ease, and they gained 600 luxury points for the house.
Later. Pearle and Archana took part in the luxury task. However, during the final moments of the task, Archana lost the way, and she started blaming Pearle Maaney for misleading her. Archana also alleged that Pearle Maaney is the 'traitor' inside the house.
In the afternoon, Shiyas sang 'Kasavinte Thattamittu' song upon request from Pearle Maaney. After completing the song, Srinish and Pearle appreciated Shiyas for his efforts.
After sometime, Bigg Boss announced that the housemates have earned only 900 luxury points in the week. Bigg Boss also revealed that Basheer was the 'traitor' of the task.
Later, Shiyas alleged that Ranjini is trying to boss him. The young model blatantly said that Ranjini will see his real face is she continue dominating him inside the house. Sabumon Abdusamad argued that the Bigg Boss house has become a flourishing ground of romantic affairs. Suresh countered Sabumon and revealed that his only love is cinema and songs. Suresh revealed that he wants to go out of the house just to see some movies.