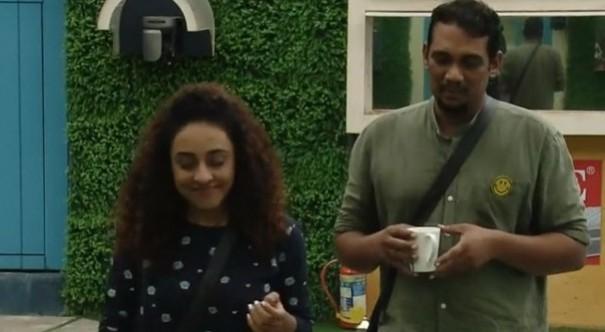 Sabumon, the new captain of the Bigg Boss Malayalam house was seen implementing new rules in the house during the initial episode of August 03. The captain informed Anoop Chandran to play carefully while inside the Bigg Boss house. He asked Anoop Chandran to target Shiyas while playing the game. Ranjini Haridas requested Sabumon to employ Basheer Bashi and Shiyas to do the kitchen works.
After sometime, Bigg Boss announced that there will be no captain in the house next week, instead, there will be a 'Karanavar' (Boss of the House) to rule the contestants. Bigg Boss nominated Basheer Bashi, Archana Suseelan and Srinish for this position, and also gave them a task. Archana Suseelan received the maximum votes in this contest, and she was selected as the 'Karanavar' for next week.
All the contestants appreciated Archana Suseelan for achieving the new feat. Later, Pearle Maaney alleged that all the contestants are intentionally targeting her. Anoop Chandan intervened into the scene and blamed Shiyas for talking loudly. Pearle Maaney defended Shiyas and told Anoop that everybody inside the house has sound.
Soon, heated arguments arose between Sabumon and Basheer Bashi. Upon Sabumon's arrival, Basheer Bashi tried to move out of the space. Seeing this, an irked Sabumon blamed Basheer Bashi for his bad culture. Basheer Bashi replied that Sabumon is a person who tries to divide people in terms of religion and caste. Basheer Bashi also complained that Sabumon has called Pearle Maaney, 'the daughter of Satan'. The aspiring model from Kochi also told Sabumon that he has started to play games in the Bigg Boss house.
Bigg Boss soon made an announcement stating that eviction nominees of this week can select a slave from the house to meet their needs. The slave selected by the nominees should do as per their lord's wish. Pearle selected Sabumon as the slave, and she made him prepare a cup of tea. She also asked Sabumon to sing a song.
Srinish selected Shiyas as the slave, and ordered the bodybuilder to dance. Surprisingly, Basheer Bashi selected Ranjini Haridas as the slave, and he asked Ranjini to massage his body.