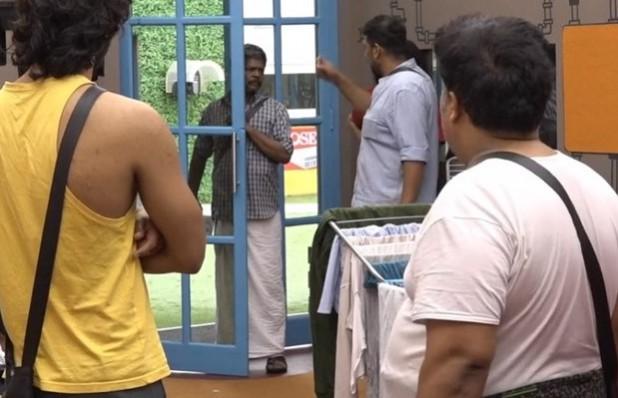 The 33rd episode of Bigg Boss Malayalam began with a quarrel inside the house. The initial moments of the episode indicated that Sabumon Abdusamad and Anoop Chandran have decided to fight Pearle Maaney -Aristo Suresh duo.
Anoop Chandran alleged that Suresh is gossiping about him. Suresh denied these allegations, and later Sabumon revealed that he is all set to beat up Suresh.
Suresh argued that Anoop Chandran had tried to damage Pearle Maaney's character during a task. Sabu told everyone that Suresh is trying to become the guardian of Pearle Maaney. In the meantime, Diya Sana too joined the party and shouted at Suresh for his biased attitude.
After some time, all the contestants tried their level best to create a tiff between Pearle Maaney and Suresh who are now the best friends in the house. However, their efforts went in vain when Pearle revealed that she has no problems with Suresh.
Sabumon alleged that Suresh had insulted Pearle's dad during a task. Suresh replied that he had done that just to elevate the fun element. Sabumon then connected this incident with the slipper-throwing controversy that happened during one of the luxury tasks. Even though most of the contestants tried to irk Pearle Maaney, the 'Nayika Nayakan' anchor revealed that she was not bothered with Suresh's remarks.
Suresh later apologised to Pearle Maaney, but Pearle compassionately behaved to the 'Action Hero Biju' actor. Pearle soon prepared tea and gave it to Suresh.
After performing poorly in the luxury point task, Pearle Maaney hugged Ranjini Haridas and cried a lot. Ranjini told Pearle that her days inside the Bigg Boss house will teach her many lessons.

In the meantime, Diya alleged that Suresh is a person with anti-feministic attitude. Pearle requested Diya not to worsen the situations inside the house.
After the cycling task. Bigg Boss selected Sabumon as the captain for next week.