The July 28 episode of Bigg Boss Malayalam began with the grand entry of host Mohanlal. In the initial moments, Mohanlal asked every contestant about the happenings which occurred last week. With his witty oneliners and philosophical talks, Mohanlal captured the hearts of both contestants and audience alike. When Mohanlal asked about the chalk throwing incident, Swetha did not reply anything.
Later, Mohanlal congratulated Sabumon Abdusamad for completing ten years of his married life. Suresh informed Mohanlal that everybody is trying to corner him. Mohanlal consoled Suresh and talked about his smoking habit. Mohanlal criticized that the face of the contestants in day and night are entirely different. The Bigg Boss asked everyone to remain transparent on the stand taken.
Mohanlal later asked everyone to conduct a game which will determine the day and night attitude of the contestants. As per Mohanlal, a contestant who will receive the most number of 'night' votes will be the one with some dark shades. After the game, Diya Sana received the more 'night' votes than any other contestant. Aristo Suresh once again proved that he is one of the open books in the house as he received more 'day' votes.
After sometime, Bigg Boss gave a 'pyramid building' task to the contestants. Diya Sana's team defeated Suresh's team in the task. During another task, Diya Sana revealed that Archana Suseelan is the silent killer in the house. The comments made by Diya Sana irked Archana to the core, and she thanked Diya for showing her real face.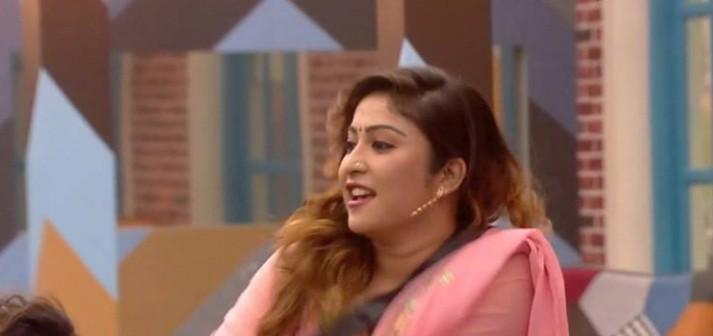 It should be noted that after the eviction of Deepan, Archana Suseelan and Diya Sana were the best friends inside the house, and it seems that the comments made by Diya had broken their rapport.
Mohanlal, later started talking about the much inevitable elimination which will happen this weekend. The Bigg Boss Malayalam host asked both Swetha Menon and Ranjini Haridas to stand up and revealed that either one of them or both of them will be eliminated from the house this week. He added that the eviction will be finalized in the Sunday episode.
Meanwhile, Asianet has released a teaser of the Sunday's episode which shows both Ranjini Haridas and Swetha Menon getting evicted from the house.