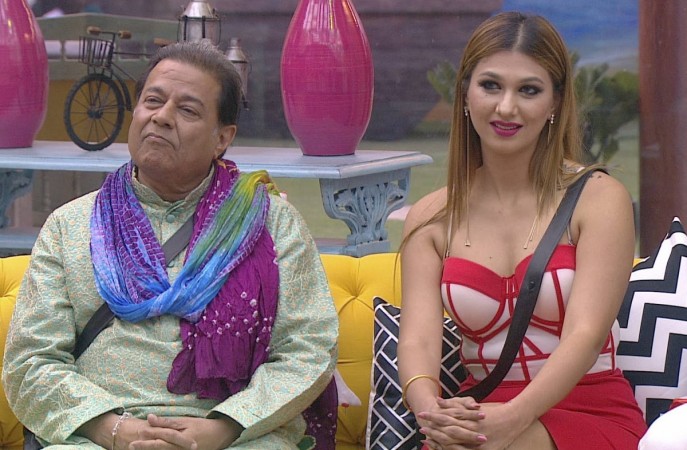 Jasleen Matharu, 28, has always maintained in the Bigg Boss 12 house that she was in a romantic relationship with Bhajan maestro Anup Jalota, 65, for the past three years. However, post eviction, Jasleen has a completely different story to tell.
"Our affair is a prank gone horribly wrong. As the show's theme was jodis, I suggested that Anupji come along; we were a guru-shishya jodi. But when Salman was introducing the housemates in the opening episode, I joked that I know Anupji for three years and that we are together. Anupji was taken aback and did not react. Had he reacted then, the matter would have ended there. I continued the joke inside the house, and he played along. But when he realised things were going too far, he was scared," Jasleen Matharu told Mid-Day.
Jasleen's father Kesar Matharu too had expressed his shock after watching the initial episodes of Bigg Boss 12 where his daughter had claimed that she was dating her bhajan teacher Anup Jalota.
Earlier, when Anup Jalota got evicted from the show, he had denied dating Jasleen and said that the two shared a guru-shishya relationship and there was nothing romantic between them.
When Anup had entered the house to meet Jasleen during the Weekend Ka Vaar episode, Jasleen had tried to enquire what made him change his statement about their relationship. And that time too, Anup had maintained that he was not dating Jasleen, however, the latter had told Salman Khan that there was a romantic connection between them.
But now that Jasleen has stepped outside the house, she has now changed her stand and said that she was shocked to read all that was written about them and the memes that flooded the internet.
"I am 28 and he is 65. I was shocked that it had become a national issue. I Googled all that was written about me; I saw the memes about Anupji and me," Jasleen said.
Talking about her stint of kissing Anup Jalota inside the house in front of other housemates, Jasleen said, "I kissed him on the cheek and forehead. There was nothing romantic about it."