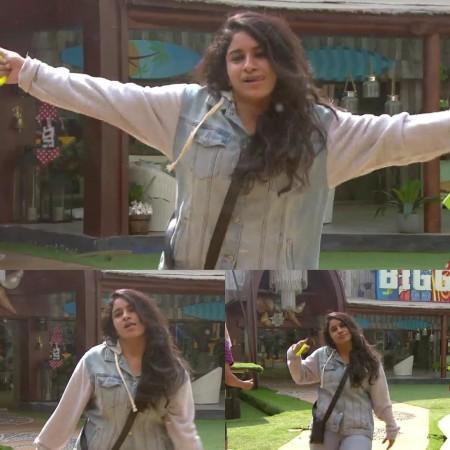 09.55: Housemates receive Bieng Human gifts from Salman Khan on his birthday.
09.50: Romil tells everyone that numerologist Jumani had taken his name as one of the top contenders. He also tells Sreesanth that he had abused Jumani once inside the jail. Sreesanth loses his cool and says everything in his life has been based on Sanjay Jumani's advices and hence he could have never done such a thing.
09.45: Surbhi Rana evicted. Bigg Boss congratulates - Deepak, Dipika, Karanvir, Romil and Sreesanth on becoming the final five. Romil gets angry at housemates for taking his name as weak contestant. His attitude irks everyone inside the house.
09.40: Romil thanks everyone for making his stay memorable and giving him the tag of 'mastermind'. Surbhi says that she still feels she is a 'shandaar ladki'. Both get teary eyed reminiscing their journey.
09.35: Bigg Boss announces that Karanvir and Deepak are also safe and are still in the race to the grand finale. Romil and Surbhi are given a chance to put forth their views about their journey in the show to the audience.
09.30: Nominated contestants are given fifteen minutes to pack their bags and assemble in the garden area for midweek eviction. It's time for the audience to know who the five finalists of the show are. Bigg Boss announces that Sreesanth and Dipika are safe and in the running for the finale. KV and Deepak name Romil and Surbhi as the two probable unsafe contestants. Sreesnath and Dipika name Surbhi and Romil. Surbhi names KV and Romil.
09.25: Kamya Punjabi, Gautam Gulati and Priyank Sharma leave the house. Later, Deepak is seen talking to the camera about his journey from a small town boy to the bigg boss house. Deepak asks KV if he he feels Deepak can win the show. KV listens to his entire story but doesn't give an answer.
09.20: Kamya and Karanvir discuss Gautam's attitude. She also makes fun of KV and his stealing habits. Karanvir also opens up about his equations inside the house. The team of the housemates win the task and bring the lost amount back to Rs 50 lacs.
09.15: Deepak's team fills up water at first and put it in their tank. They again manage to collect water and fill up their tank. Guests begin to fail miserably at the task. Meanwhile, Gautam asks Sreesanth to not use foul language on anyone.
09.10: Three of the housemates and guests have to collect water in a bucket every time the siren would ring and the tap would be opened. Housemates and guests have to quickly fill water in their individual tanks. Deepak, Romil and Surbhi decide to go first from the housemates' team. Dipika is named as the mentor of the task and KV is excluded from the task owing to his injury.
09.05: Priyank Sharma, Kamya Punjabi and Gautam Gulati enter the house. All the housemates assemble in the living area alongwith the guests. Bigg Boss reminds the housemates that they have a chance to win back the lost prize money amount. Bigg Boss announces that they would be playing against the guests who have come to the house.
09.00: Housemates wake up to the energetic number - Do that paani wala dance. Deepak and Sreesanth get into a friendly banter about how much they would miss the house after leaving. They also discuss how Romil's behaviour has changed in the last few weeks. Later, Deepak and Sreesanth are seen taking a nap and the alarm goes off.
After weeks and weeks of drama, chaos, entertainment, fights and fun; Bigg Boss 12 is all set to turn its last chapter. While six contestants – Sreesanth, Karanvir Bohra, Dipika Kakar, Deepak Thakur, Romil Chaudhary and Surbhi Rana – are left in the show so far, one of them would have to leave the house in a surprise mid-week eviction tonight.
Yes, you read it right. There's going to be a surprise mid-week eviction, and we will have just five contestants left for the running to the finale.
As per a survey conducted by IBTimes, Surbhi Rana is most likely to be evicted tonight. The 'Roadies' girl who joined the show as a wildcard entry will probably be given the axe in tonight's eviction.

While towards the beginning of the show Rana was declared as a tough competitor who used to take a strong stand for herself and used to put her views forth without any hesitation. As the show progressed, her fiery attitude became too much to digest.
Celebrity guests to the family members who entered the show, everyone asked Surbhi to tone down her aggression and change her attitude. Even Salman Khan had to intervene at multiple occasions and pull her up for her behaviour.
Now, whether or not, Surbhi would be the one to get eliminated tonight, remains to be seen. However, it wouldn't come as a surprise if either Surbhi or Romil leave the show tonight.