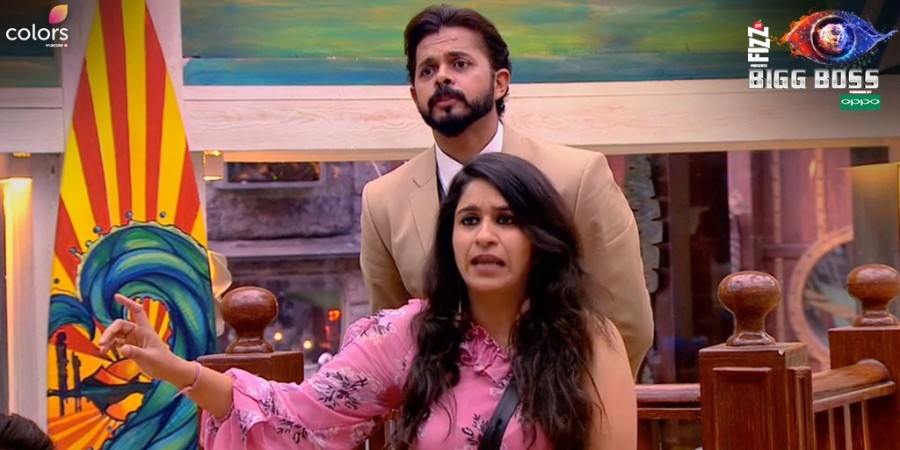 After witnessing the ugly war of words between Sreesanth and Surbhi, one of Sreesanth's blind supporter stooped so low to troll Surbhi that he went on today that one day the Bigg Boss 12 contestant will get gang-raped outside after she will come out of the controversial reality show.
On the Weekend Ka Vaar episode, Salman Khan lambasted both Sreesanth and Surbhi for their shameful behaviour and said that such use of language will not be tolerated inside the Bigg Boss 12 house.
While the Dabangg Khan slammed Surbhi for provoking Sreesanth to react by talking ill about his cricket career, he blasted Sreesanth for losing control over his anger and referring Surbhi to a prostitute.
Sreesanth apologized for his mistake and justified it by saying that he was angry and hence he behaved in an aggressive manner.
Soon Sreesanth's fans including Shilpa Shinde started extending their support to the former Indian cricketer and began tweeting with #WeStandBySreesanth.
However, Twitter users were left with disgust after a Sreesanth fan tweeted that Surbhi might get gang-raped someday. His tweet received a lot of flak from Twitter users who trolled the user left, right and centre including other Sreesanth's fans for his cheap mentality towards a woman.
After getting brutally trolled, the user soon deleted his tweet and apologised for saying such things about a woman. However, he stood by Sreesanth and complained that even Sreesanth's fans didn't come to his defence.
"Okay so I Apologize for my last Tweets which I already deleted.
Tbh I don't give a F** to haters.
SS leke kya Ukhad lega mera.
But most hurting part is No one defended me.
Even SreeFam Khud blaming me for my tweets without thinking my feelings for Sree
#WeStandBySreesanth," the Twitter user wrote.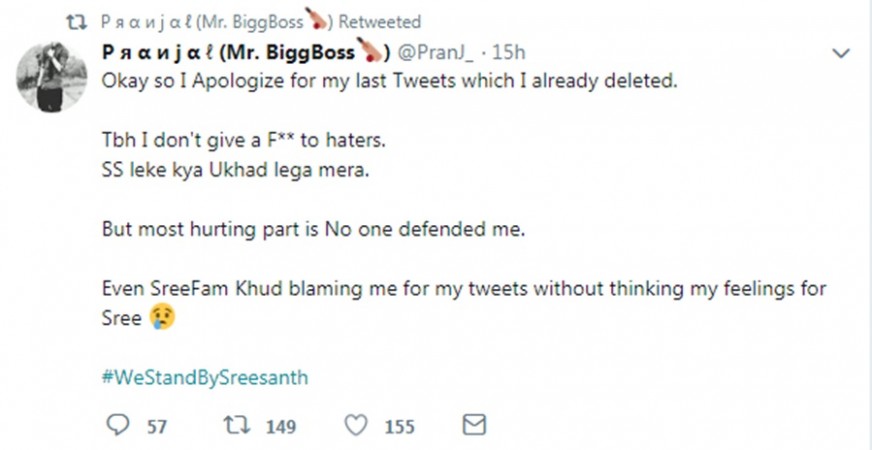 On Friday episode, Sreesanth and Surbhi's verbal fight went off the grid where both the contestants ended up insulting each other with their razor sharp or rather demeaning words.
Surbhi mocked Sreesanth by talking about his slapgate controversy with Harbhajan Singh and his cricket career and even bumped into him showing the former cricketer the middle finger. Sreesanth, on the other hand, snapped back at her and passed an unsavory remark on her alluding to prostitutes by saying "11 baje ke baad khadi hoti hai."