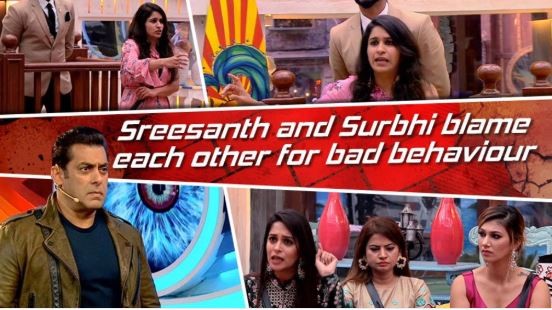 10.00 pm: Sreesanth breaks down into tears. Housemates gather around the bathroom to console him. Dipika says that whatever Sreesanth says its always just in anger but whatever Surbhi says is always personal and well thought of. Seeing Sreesanth's plight even Romil breaks down and blames Surbhi. Karanvir tells Surbhi that she shouldn't have provoked him to such a level where he would lose his cool like this. Surbhi breaks down and tries to defend herself.
9.50 pm: Juhi Parmar comes to the sets of Bigg Boss 12 to promote her upcoming show 'Tantra'. Sreesanth goes and locks himself inside the bathroom. Dipika goes to console him but to no avail.
9.45 pm: Salman asks Surbhi not to bring court cases into their discussion or fights as they don't know the entire truth. He also asks Jasleen, Megha and Dipika to think about it.
9.42 pm: Salman tells Sreesanth that he has been saying such things again and again and no matter how much people provoke him he needs to have some control on his anger. He also asked him to come out of the show with dignity. Salman also tells Surbhi that since she knows how easy it is for Sreesanth to lose his cool, she shouldn't have done what she did.
9.40 pm: Sreesanth leaves the katghara and says that he won't stand inside the katghara anymore. He apologises to Salman and Surbhi angrily and says that he is getting to learn a lot from the show. Salman reminds him that his other comment was totally uncalled for. Megha says that she had heard what Sreesanth had said and had decided in her mind that she would send Sreesanth to the jail. Salman asks her that when Deepak made a comment on her she had lost her cool, then why didn't she do the same this time.
9.36 pm: Salman pulls up Dipika for listening to Sreesanth referring to Surbhi as a prostitute. Dipika says that she immediately stopped him from saying that and asked him not to say such things. Dipika says that whenever Sree says anything wrong in aggression, she always tries to stop him and make him realise his mistake.
9.34 pm: Salman tells Sreesanth that no matter how much anyone provokes him, he shouldn't cross the line. Sreesanth says that Surbhi went really personal about him and his family and thus he lost his cool. Sreesanth then angrily says that if the country felt that he has crossed the line he is apologetic to Surbhi and all the viewers of the show. Salman reminds Sreesanth that if Deepak got pulled up for 'chaal-chalan' comment then he deserves a punishment for his 'characterless' comment too. Sreesanth defends himself by saying 'characterless' he only meant that Surbhi has shown many shades of her personality and of her character.
9.30 pm: Salman questions Surbhi and Sreesanth for their brawl during the task. Surbhi defends herself and says that Sreesanth's statement about provoking her made her decide to provoke him. And when Sreesanth called him 'characterless', Surbhi says that she lost her cool and went personal on him.
09.25 pm: Salman pulls up Dipika for trying to make a pact with Somi before the task began. Salman asks the housemates to think about what is leading to majority of tasks being cancelled.
09.20 pm: Romil says that Somi went personal during the task. Salman says that maybe Romil wanted Somi to favour him which she didn't do. Salman praises Somi for being fair and being impartial. Salman says that Dipika had approached Somi - the judge - in a wrong way. Salman jokes on Somi and Deepak's jodi and calls Deepak 'besharam'.
09.15 pm: Salman also pulls up Jasleen for blindly following Megha. Salman brings out Jasleen's truth in front of Jasleen. Somi is called into the katghara next. Jasleen says that Somi was partial when it came down to KV. in her defense, Somi says that with each break Jasleen was discussing the matter with Romil and Megha and had already made up her mind.
09.10 pm: Salman makes Jasleen realise her mistake by saying that judges don't sit with defendants and opponents and discuss the case beforehand. He also tells Jasleen that she was playing the role of a judge, a defence lawyer, a prosecutor and a victim too.
09.05 pm: Salman calls Jasleen into the katghara and asks her whether she was a partial as a sarpanch during the task. Somi tries to defend herself and puts the blame on Jasleen of being unfair. Jasleen defends herself by saying that she took the decision only based on truth.
09.00 pm: Housemates wake up to the kaala-jaadu totka kept as a secret task by Megha Dhade. After being scared for a while, housemates start saying that its not a good joke if anyone has done it as a form of humour. Sreesanth rolls the lime in tissue paper and throws it out.
The temperature inside the Bigg Boss house is soaring up every week with contestants bringing their gameface on. Surbhi and Sreesanth were the two contestants who brought the house down with their massive brawl and uneding arguments. In tonight's episode, Salman would be seen pulling up both Sreesanth and Surbhi for bringing down the quality of the show and also for crossing their limits.