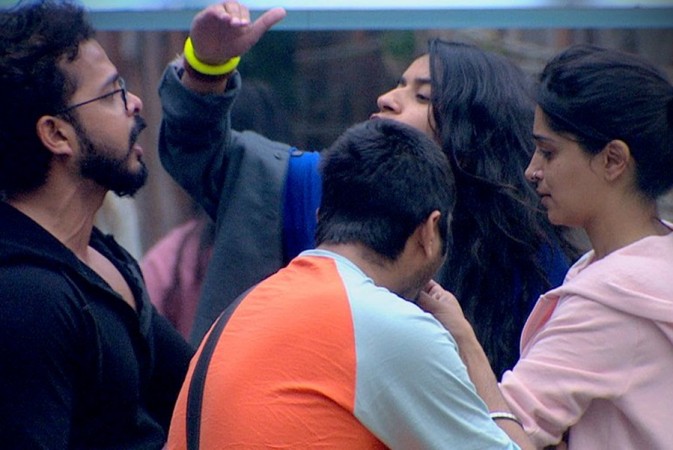 Bigg Boss 12 contestants Sreesanth and Surbhi Rana have hit a new low with their shameful behaviours inside the house. Last night, their verbal fight went off the grid where both Sreesanth and Surbhi ended up insulting each other with their razor sharp or rather demeaning words.
There have been many times when both Sreesanth and Surbhi have got tangled and broke into war of words with each other. But this time, the two stooped to a new low.
Surbhi mocked Sreesanth by talking about his slapgate controversy with Harbhajan Singh and his cricket career and even bumped into him showing the former cricketer the middle finger. Sreesanth, on the other hand, snapped back at her and passed an unsavory remark on her alluding to prostitutes by saying "11 baje ke baad khadi hoti hai."
Dipika, on the other hand, stood like a stone wall to support Sreesanth against Surbhi's crassness. But when she along with Jasleen and Megha later reprimanded Sreesanth for his low talk and the former cricketer said that he didn't mean it and referring Surbhi to a prositute was unintentional, the Sasural Simar Ka actress bought his explaination and stood by him.
The mud-slinging and slut-shaming between Sreesanth and Surbhi didn't go down well with viewers who have been shaming both the contestants for stooping to a new low with each passing day in the Bigg Boss 12 house. They compared Sreesanth and Surbhi with Swami Om and Priyanka Jagga who created havoc inside the Bigg Boss house with their distasteful behaviour.
Take a look.
"#SurbhiRana does not deserve to stay in #BiggBoss12 at all because she is completely mindless and make noise in the house for no reason. She should be evicted now," a Twitter user commented.
"#Sreesanth had stopped so low
How are people supporting this anti-nationalist???
Height of hypocrisy!!!" another Twitter user commented.
"#Sreesanth & #SurbhiRana are Swami OM & Priyanka Jagga
They both are wrong today!
#Surbhi's point was right Sree Seek Sympathy but the way she shouts its Cheap
& #Sreesanth disgusting to call her Characterless & Sl*t
Its Like GHATYA Vs More GHATYA
SHAME," another Twitter user commented.
"Extra dose mental #SurbhiRana was wandering around like a mental bully and it is horrific to even see her....
Imagine people are living with her.
Constantly she was taunting #Sreesanth and #DipikaKakar
I am disgusted with @BiggBoss team, who let this happen," another Twitter user commented.
And the storm kept pouring in on social media over Sreesanth and Surbhi's gross behaviour in Bigg Boss 12 house.
#Sreesanth & #SurbhiRana are Swami OM & Priyanka Jagga

They both are wrong today!#Surbhi's point was right Sree Seek Sympathy but the way she shouts its Cheap

& #Sreesanth disgusting to call her Characterless & Sl*t

Its Like GHATYA Vs More GHATYA

SHAME#BiggBoss12 #BB12

— HandsomeKVB (@hunkistan) December 1, 2018
Extra dose mental #SurbhiRana was wandering around like a mental bully and it is horrific to even see her.... Imagine people are living with her. Constantly she was taunting #Sreesanth and #DipikaKakar I am disgusted with @BiggBoss team, who let this happen — Being Honest (@SmileAndHavFun) December 1, 2018
#SurbhiRana raised questions on #RomilChaudhary character but don't think @BeingSalmanKhan will question her bcs she is woman. Woman can abuse man but man cannt . Why did hue & cry when #Sreesanth said characterless to surabhi. ? #BiggBoss12 #BB12 why dis discrimination ?

— Rahul (@killerdude__) December 1, 2018
Zubair Called Arshi 2Rs Aurat and something..He was bashed and thrown out of the show. Sreesanth Called #SurbhiRana A Characterless Girl.. Slu* and much more Shouldn't he receive the same punishment ? @BiggBoss @justvoot@EndemolShineIND @Viacom And please don't cover up. — The Khabri (@TheKhbri) November 30, 2018