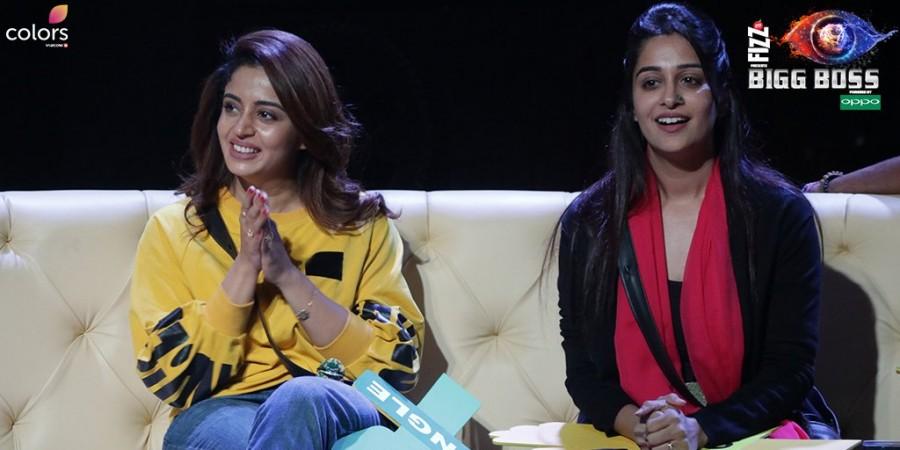 10:03 pm - In the upcoming episode of Bigg Boss 12, Saba and Somi's fake fight gets backfired. They face the wrath of other contestants for faking an argument having Shilpa Shinde and Karan Patel at the judges panel.
10:01 pm - Saba, Somi and Shivashish intentionally fight with each other in front of other contestants but they get caught easily.
10:00 pm - Saba, Somi and Shivashish decide they will start a fake fight as they were feeling bored inside the house.
9:49 pm - Contestants vote for Neha and declare her as the weakest contender compared to Deepak and Urvashi. The BB Press Conference, thereby, comes to an end.
9:48 pm - Anup Jalota thinks that Neha pressed the buzzer in a hurry because he doesn't find a valid point that could be argued against Deepak and Urvashi.
9:47 pm - Deepak throws counter questions at Neha saying that the latter will show her true colors in the upcoming days.
9:43 pm - Neha says that being a commoner, Deepak and Urvashi don't have a strategy to compete in the game. She further says that the jodi seems to be quite confused and feel they are misfits in the show.
9:42 pm - Now Neha Pendse hits the buzzer. She challenges Deepak and Urvashi to be interrogated in the BB Press Conference.
9:36 pm - The battle of the question and answers for Jasleen Matharu and Anup Jalota comes to an end with Srishty winning the task.
9:32 pm - When Karanvir Bohra refuses to buy Jasleen's explaination, other contestants too back him and prod Jasleen to accept their relationship. After continuous prodding, Jasleen finally accepts she is indeed in a romantic relationship with Anup Jalota.
9:30 pm - As contestants interrogate Jasleen and Anup about their relationship, Jasleen says they are not a couple while Anup openly accepts that they are in a romantic relationship. Contestants feel that it must be their game plan to portray themselves as a couple.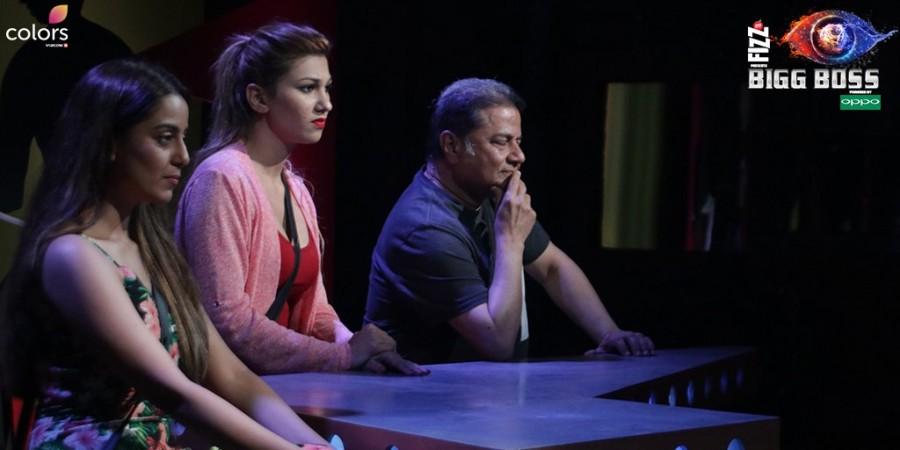 9:29 pm - Dipika interrupts and says that Jasleen seemed hesitant before Salman asked them about their relationship.
9:27 pm - Somi Khan asks Jasleen and Anup that they don't get a vibe that the two are a couple. Jasleen shots back at her and says, "If we have entered the show as a couple, does that mean we should be girlfriend and boyfriend?"
9:25 pm - Srishty tells Hina and Hiten that according to her, Anup will not be able to perform in the task because of his age factor. Anup defends himself.
9:24 pm - Bigg Boss welcomes Hina Khan and Hiten Tejwani at the BB Press Conference.
9:19 pm - Bigg Boss calls Dipika in the confession room and tells her read out the details about the first task called BB Press Conference. The task will be performed by singles and jodis who will throw questions and the other person will answer. Contestants will challenge those who will be interrogated and nominate those who they feel are the weakest amongst all.
Srishty Rode challenges Anup Jalota and Jasleen Matharu to be interrogated.
9:18 pm - Dipika Kakar and Neha Pendse discuss about how to share daily responsibilities in the house. Dipika says that nobody looks like a troublemaker to which Neha replies that the troublemaker situation has not yet come.
9:14 pm - Jasleen says lots of people are fake and overdramatic inside the house. Jasleen is not happy with Saba who keeps asking her about her relationship with Anup Jalota. "Are we here to keep explaining to people what kind of relationship we share with each other?" asks Jasleen.
9:13 pm - It is bonding time for Anup Jalota, Jasleen Matharu, Deepak Thakur and Urvashi Vani.
9:09 pm - Deepak Thakur speaks to his parents while looking at their family photo. "It looks like my dream has come true. People here are very rude and make fun of you," says Deepak.
9:06 pm - Jasleen and Anup discuss about their relationship with Saba Khan while enjoying coffee and breakfast. Jasleen tells Saba that her relationship with Anup is more than love while Anup says that they won't say that they are very much in love. After Saba leaves the dining table, Jasleen tells Anup that everyone is curious to know about their exact relationship so they will just play along in the game.
9:03 pm - All Bigg Boss contestants gather in the garden area and shake a leg on Salman Khan's popular song Chalti Hai Kya Nau Se Bara.
9:01 pm - Deepak Thakur says he was shocked to see Anup Jalota participating in Bigg Boss 12. Anup Jalota says that it was Jasleen's wish to participate in the show and he just supported her choice by entering as a couple. "Bigg Boss 12 wants glamour and that is what Jasleen will bring to the show," says Anup Jalota.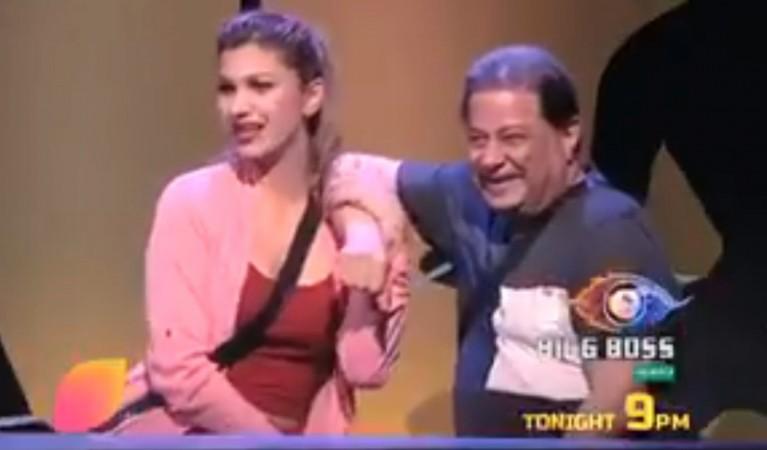 Bigg Boss 12, which premiered on Sunday, September 16, has become the talking point thanks to the 'vichitra jodi' Anup Jalota and Jasleen Matharu. The jodi attracted the much-needed attention of millions of viewers when they admitted their three-year-long relationship on national television which raised many eyebrows.
In tonight's episode, Bigg Boss 12 contestants can be seen grilling Anup and Jasleen, calling them out for faking their relationship as it seems the news has already reached the makers of the show. Hina Khan and Hiten Tejwani will also be joining the panel along with other contestants.
Other contestants - Dipika Kakar, Karanvir Bohra, Srishty Rode, Neha Pendse, Sreesanth, jodis Romil Chaudhary and Nirmal Singh, Shivashish Mishra and Sourabh Patel, Deepak Thakur and Urvashi Vani, Saba Khan and Somi Khan, Roshmi Banik and Kriti Verma, are also lined-up to give viewers their daily dose of entertainment and gossips on the show.
Viewers are expected to witness lots of drama, fights, arguments and romantic moments inside the Bigg Boss 12 house for the next three months.
Keep watching this space for the latest updates from Salman Khan's controversial reality TV show Bigg Boss 12.