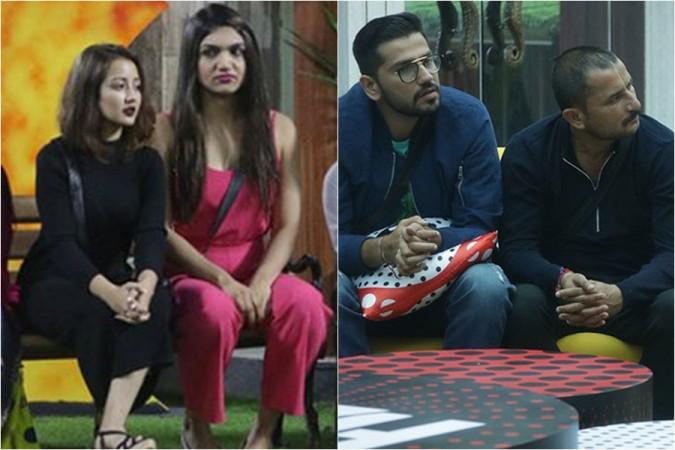 A double elimination will be taking place on Bigg Boss 12 Weekend Ka Vaar episode with Salman Khan. Vichitra jodi - Kriti Verma and Roshmi Banik and one single contestant - Nirmal Singh, who entered the house as a pair along with Romil Chaudhary, will reportedly get evicted from the Bigg Boss 12 house.
According to the information shared by @TheKhbri Twitter handle, Kriti and Roshmi, who came under the scanner for their behaviour during the Samudri Lootere task, will be shown the exit doors in the second-week eliminations. The duo was elected as the first captains of the house.
Another jodi to get nominated is Romil and Nirmal. Salman will reportedly give them a special power to save any one among them from elimination. After having a mutual discussion, Nirmal says that Romil is playing good and should stay in the house. As Nirmal gets eliminated, he adds that if Romil wins the trophy, it will be for both of them.
Meanwhile, Dipika and Jasleen will be seen going one on one against each other in a Sultani Akhada (wrestling match). According to The Khabri, Dipika will pin down Jasleen and emerge as the winner of the task.
Sreesanth, who has time and again threatened to leave the Bigg Boss 12 house, will face tough questions from the caller of the week for being double-faced during the tasks he performed in the show.
#Exclusive 2nd Eviction Details

Salman will announce Romil-Nirmal is 2nd jodi to be evicted.
Both come on stage with Salman,
Salman gives them special power to save one, Niram says Romil is playing good he should stay, if he wins trophy will be of Both us.#Romil Stays

— The Khabri (@TheKhbri) September 29, 2018
#WeekendKaVaar Details#BB12 #BiggBoss12#Guests Ayushman and Tabu on Saturday Sunday - Ayush and Warina#KaranPatel enters again BB with a Task Gunehgar of Week #Romil will face handslap Torture First WildCard will enter on Monday. — The Khabri (@TheKhbri) September 29, 2018
#BB12 #WeekendKaVaar#FullDetails
Double Eviction- Roshmi-Kriti

Romil-Nirmal were Asked to mutually decide, one will stay one will go, #Romil stays#SultaniAkhada Dipika-Jalsleen
Deepika Won
Caller of the week questioned #Sree for double face inthe Task.

— The Khabri (@TheKhbri) September 29, 2018
Bigg Boss Give a Option to 2nd Evicted Jodi Only one can stay in bigg boss 12 House Nirmal and Romil mutually decided Romil in Nirmal out#BB12 #BiggBoss12 #WeekendKaVaar — The Khabri (@TheKhbri) September 28, 2018
Keep watching this space for the latest updates from Bigg Boss 12.